"Tradition and Modernity" – Gdynia Film Centre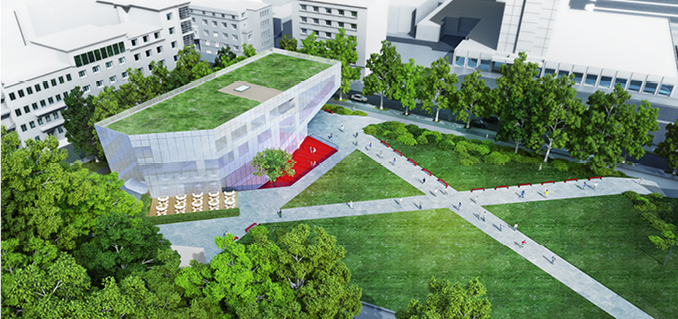 The Mayor of the City of Gdynia, Wojciech Szczurek and the Manager of the Warsaw Rising Museum, Jan Ołdakowski invite you to the topping out ceremony of the building of the Gdynia Film Centre and to the official unveiling of a board commemorating the Warsaw Uprising Filmmakers.
20 September 2014 (Saturday), 3.00 p.m., Gdynia Plac Grunwaldzki 1 / entrance to the building zone through the Musical Theatre
Gdynia Film Centre in the future is supposed to be one of the key cultural venues of the city, including the Gdynia Film Festival. The building inculdes three stuio cinema rooms, a film club, a restaurant, a multimedia shop, offices for rent as well as the Gdynia Film Festival office and the seat of the Pomeranian Film Foundation.
A part of the GFC will be devoted to the activity of the Gdynia Film School which has already prepared an offer of film and photography workshops for the school youth.
"The biggest auditorium will at the same time serve the function of a cinema screening room," says Leszek Kopeć, the Director of the Gdynia Film Festival and the Board President of the Pomeranian Film Foundation. "All the three rooms will also enlarge the space of the Gdynia Film Festival. An interesting architectural detail is the placing of a red carpet in the space of the project, which will be an element of the permanent internal architecture of the Centre."
The Gdynia Film Centre is a project implemented by the Gdynia Culture
Forum in collaboration with the Pomeranian Film Foundation in Gdynia.
The building, designed by Arch Deco and erected by Budimex, will be
raised at Plac Grunwaldzki. Located in the close vicinity of Skwer
Kościuszki, Bulwar Nadmorski, the city beach, the Gdynia City Museum and
the planned Maritime Forum, according to the concept of the Foundation
and the municipal authorities, is supposed to become a new cultural
centre of the city.
The opening of the Centre is planned for the second half of 2015.
The GFC building is one of the Municipal Projects funded from the
JESSICA Initiative sources and implemented within the Regional
Operational Programme for the Pomeranian Province for the years
2007-2013.