CASTING AS A COMPLEX AND CREATIVE PROCESS CONTRIBUTING TO THE ATMOSPHERE AND CHARACTER OF A FILM
13 września | 14:30 - 18:30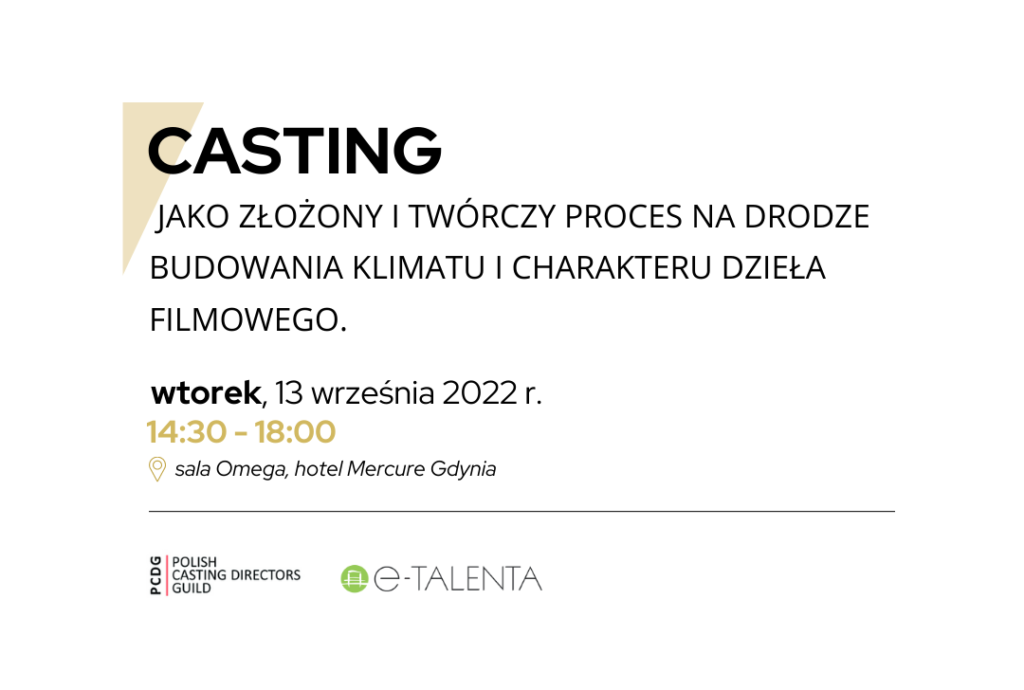 What is the role of casting in Polish cinema? How has it changed over the years? What does the casting process look like? What influence does an actor have on the casting process? To what extent can the casting director affect the cast?
Casting is one of those elements that everyone is passionate about: filmmakers and audiences alike. A creative element of any fictional production, it often determines the character and success of a film. For the audience, it is an uncharted territory. For the creators, it is one of the crucial decisions. Meanwhile, it is often a source of anxiety for actresses and actors. Perhaps together we can change that?
We will meet with casting directors, producers, actors and directors and talk about important issues concerning casting, such as the relationship between the creators, responsibility, the influence of actors on the casting process, education in this area and the role of the casting director in the context of the entire film production. We will discuss the behind-the-scenes of the casting process as well as effective methods of presenting actors and approaching casting decision-makers.
EVENT PARTNERS: e-TALENTA, Polish Casting Directors Guild
PROGRAMME:
14.30 – 14.40 | Greeting the event partners (e-TALENTA, Polish Casting Directors Guild), guests, panelists and participants by th organiser. Greeting by Barbara Kowalska – e-TALENTA representative. Presentation of the event programme by the moderator.
14.40 – 15.30 | Discussion on the creative side of a casting director's work
We will highlight the meaning and benefits of a creative collaboration based on trust and shared artistic sensitivity between the director, producer and casting director.
Panelists: Julia Popkiewicz, Xawery Żuławski, Aneta Hickinbotham, Mikołaj Kubacki, Jowita Budnik
15.30 – 16.00 | Who will play it?
Casting directors, Marta Kownacka and Nadia Lebik, will conduct a hypothetical casting call. Helped by guests, they will select the cast of a potential blockbuster!
16.00 – 16.10 | coffee break
16.10 – 16.30 | How does e-TALENTA facilitate the casting process?
Representatives of the European casting platform e-TALENTA will talk about its expansion in Poland, functions and vision for tighter collaboration between casting directors, directors, producers, agents and actors.
16.30 – 17.30 | Panel on the benefits of good preparation for casting
Casting disenchanted! How to prepare well for it? How to make a good profile video? What is e-casting? What expectations can casting directors and agents have?
Panelists: Paulina Krajnik, Monika Stępień, Przemek Przestrzelski, Konrad Michalak, Philipp Mogilnitskiy
17.30 – 18.30 | Individual consultations