Gdynia for children
12 - 16 września | 09:00 - 16:00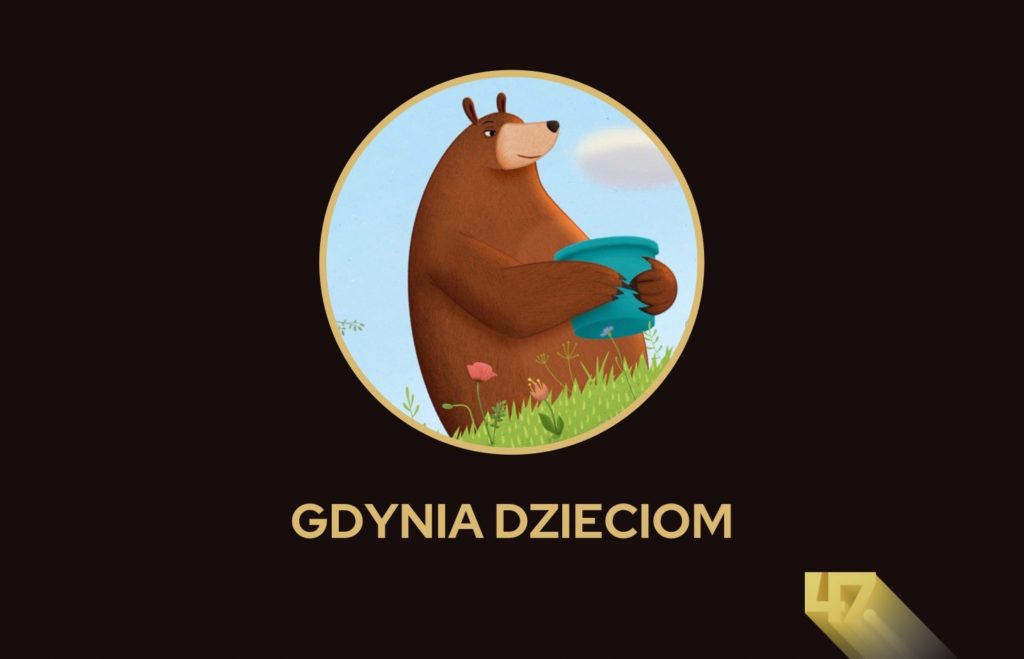 Watch with me, mum and dad!
New releases and classics, full-length and short, features and animations, big-screen films and small-screen episodes of TV series. Nearly fifty entertaining titles inspired by literature. This year's edition of Gdynia for Children organised by the Polish Filmmakers Association is packed with film adaptations of popular books.
Nasza Księgarnia used to publish a series of stories for the youngest readers titled Read to Me, Mum – undoubtedly, those books made my childhood. And not only mine but every generation's. And they will continue to do so because Nasza Księgarnia reissued this universal and timeless evergreen series to celebrate the 100th anniversary of the publishing house. The request "read to me, mum" remains valid. Ask Dad to join in.
In the beginning, was the word, and only then did the motion pictures appear, so programmers of this year's Gdynia for Children have come up with another urgent request: "watch with me, mum and dad". Polish literature for children and youth has fared well, and many book-inspired films seem to stand the test of time as well. A good example of this is over-sixty-year-old Wanda Jakubowska's King Matthew I (1958), a fairy tale about the inner mechanics of power based on a well-known novel by Janusz Korczak. There is also The Island of Delinquents (1965), directed by Stanisław Jędryka, the first adaptation of Mr Automobile's adventures written by Zbigniew Nienacki, suspenseful and packed with twists and turns. We can't forget the witty TV series from Animated Films Studio in Bielsko-Biała (1969–1970) based on a bestselling novel by Stanisław Pagaczewski, Kidnapping of Baltazar Gąbka. The show depicts the unbelievable adventures of Wawel Dragon, his sidekick cook Bartłomiej Bartolini and the eponymous eccentric professor. When it comes to animation, nothing is impossible. I recommend you take a look at films based on classic fairy tales and legends (great series Polish Fairy Tales produced by TV Studio of Animation Films in Poznań) and funny but far from silly poems by Wiera Badalska (series Ballads released by Animated Films Studio). These undoubtedly timeless classics will bring a lot of fun to both younger audience members and older ones, should they decide to watch them as well.
However, if you want to leave your comfort zone and discover something new, there is a lot to choose from. There is Aggie and Basia, two terrific series about the everyday life of the eponymous girls, full of adventuress and surprises. There is the Patchwork Kingdom ruled by Princess Bianca and her friend, Albert the Hamster, or The Tiny Kingdom of Princess Aurelia, with the protagonist accompanied by the wise Yaga and her cat Baba. I must mention Wiola Sowa's Longing, the pilot episode of The Great Book of Feelings, heralding a visually-unique adaptation of the bestselling book series by Grzegorz Kasdepke. Full of humour and advice for life, the series introduces a group of kindergarten kids who explore various emotions positive and negative. Primary feelings, such as love, longing, acceptance and tolerance, are central themes of part-real-life, part-fantasy The Day of Chocolate directed by Anna Onichimowska, The Black Mill by Marcin Szczygielski (both adapted for the screen by Jacek Piotr Bławut and Mariusz Palej) and Kristoffer Rus' Too Old for Fairy Tales awarded at this year's Cinema in Sneakers. The jury's justification reads: "This film does not enforce a therapy. It tells a story about the young and old. About all of us. And does so masterfully."
In Polski film dla dzieci i młodzieży, a book I wrote with Anna Wróblewska a couple of years ago, we replaced the introduction with the lyrics for Załoga G, w hit song by Hurt. Those few verses could be the motto of Gdynia for Children, especially this year: "I'd like stay innocent and true / Always full of hope / Like Bolek and Lolek, Tytus, Romek and A'Tomek /
the six Bullerby children, Tomek on the trail of Yeti / Like King Matthew I, Asterix and Obelix / Like G-Force, MacGyver and Pippi."
Jerzy Armata
Gdynia for Children is organised by Polish Filmmakers Association, in cooperation with Pomeranian Film Foundation in Gdynia.
The programme is co-financed by the Polish Film Institute.
UNICEF Poland – a humanitarian organisation for children – is the Honorary Patron of the review.
ANIMATIONS
SET I
age group: kindergarten – 1st grade – 41 min
BALTIC
directed by Piotr Giersz, 9 min, Serafiński-Studio, 2015
Once upon a time, at the beginning of the 19th century in Trzęsacz, a small fishing village by the Baltic Sea, in a poor cabin, an old fisherman lives with his beautiful daughter, Ewa. The girl falls in love with a sailor, but soon, Kazimierz has to leave to fight in a war, promising to return. Unfortunately, he dies and ends up in the sea. Tortured by anguish, Ewa passes away too and is buried on the cliff, in a cemetery by a church. Kazimierz returns for his beloved Ewa in the form of the sea waves that destroy the rock, the church and the graves and flush away Ewa's body, thus, fulfilling the promise to reunite with his lover for eternity.
NOT SO SCARRY A CROCODILE
directed by Grzegorz Koncewicz, 10 min, Serafiński-Studio, 2020
The other day, a dog invited a crocodile to his home, which started a series of fun plot twists. The crocodile had run away from a pet shop because he suspected himself of sleepwalking and eating small animals. The dog would have deeply regretted his hospitality if it hadn't turned out that the pet shop sold the small animals while the crocodile was asleep.
HISTORYJEK NA TROPIE – ZAWISZA CZARNY
directed by Piotr Furmankiewicz, 12 min, Fumi Studio, 2020
A little crazy professor, Historyjek, asks Simon and Agatha to help him repair… the history of Poland! The scientist created a time travel computer, but system overload resulted in the machine swallowing a lot of elements from historical events, which have to be returned to their timeframes as soon as possible. In this episode, Simon and Agatha meet s legendary Polish knight, Zawisza the Black.
AGGIE AND LEAVES (SERIES: AGGIE)
directed by Andrzej Piotr Morawski, 10 min, Serafiński-Studio, 2019
Aggie uses fallen leaves to make a picture of an autumn forest and dancing Leafy Maiden in the foreground. When she shows the finished work to Cyril, Leafy Maiden is missing, and a cry for help comes from the picture, so the children jump into the leafy world. There, they meet animals running away in panic and warning them against Dragon, which captured Leafy Maiden and won't let her go. After many adventures, Aggie and Cyril save Leafy Maiden and make friends with Dragon.
SET II
age group: kindergarten – 42 min
SERIES: PATCHWORK KINGDOM
BIANCA AND ALBERT (SERIES: PATCHWORK KINGDOM)
directed by Jarosław Szyszko, 7 min, Serafiński-Studio, 2022
Daddy King and Princess Bianca are enjoying a walk in the woods while suddenly, it starts to rain heavily. With Daddy lost somewhere, Princess hides under a tiny mushroom where she meets Albert the Hamster. Mr Cricket and Stephan the Sparrow soon join the two. The hideout becomes crowded, leading to arguments. Luckily, the rain has made the little mushroom grow into a large umbrella. The adventure is the beginning of the friendship between the two main characters, Princess Bianca and Albert the Hamster.
SUGAR MINE (SERIES: PATCHWORK KINGDOM)
directed by Paweł Czarzasty, 7 min, Serafiński-Studio, 2022
Princess Bianca craves something sweet, but the castle is all out of candy. Bianca and Albert reason that if salt mines exist, sugar mines must be a thing too, so they set out to find one. Albert's dad, Lumberjack Hamster, shows them a sugar beet field. The Sun helps fasten the growth of vegetables, so they can harvest them and enjoy some candy.
CIRCUS SHOW (SERIES: PATCHWORK KINGDOM)
directed by Szymon Adamski, 7 min, Serafiński-Studio, 2022
Princess Bianca is a big fan of the circus performer Mister Cricket and dreams of copying his act. During an evening show, her dream may come true: the audience is allowed to try tightrope walking. Bianca fails at the stunt and almost falls. The audience freezes with horror, but Albert the Hamster keeps his head and saves his friend, changing the minds of those who underestimated him.
BALL (SERIES: PATCHWORK KINGDOM)
directed by Elżbieta Wąsik, 7 min, Serafiński-Studio, 2022
The castle is hosting an elegant ball. Princess Bianca looks beautiful in her new dress. The ballroom shines with splendour. Frog Jazzband plays the music. Albert the Hamster wears his best clothes but still looks out of place. Regardless, he's having a great time. Unfortunately, his frequently mended trousers rip at the seams on the dancefloor. We find out Albert doesn't have a mother. Mommy Queen, a brilliant seamstress, fixes Albert's trousers and becomes his stand-in mom.
PIGGY BOX (SERIES: PATCHWORK KINGDOM)
directed by Jan Steliżuk, Grażyna Firląg, 7 min, Serafiński-Studio, 2022
Princess Bianca's piggy bank is hungry. It hasn't been fed any coins in a long time. Meanwhile, Albert the Hamster loses a baby tooth. The situation gives Daddy King the idea to teach the children about making money. Albert puts the tooth under his pillow. It turns into a coin. The following night, he puts the coin under his pillow, and finds a pile of coins. Daddy King has so much fun he overfeeds the piggy bank. If it weren't for Mommy Queen, things would end badly.
PRINCE THE FROG (SERIES: PATCHWORK KINGDOM)
directed by Bartosz Zarzycki, 7 min, Serafiński-Studio, 2022
Princess Bianca dreams of a Prince Charming. She knows you can find one by kissing the right frog, so she begins her search in a garden pond. Albert the Hamster isn't too happy with the game and feels a bit jealous. Fortunately, the prince Bianca dreamed of turns out to be quite rude and the Princess appreciates Albert again.
SET III
age group: kindergarten – 1st grade) – 45 min
PILOT EPISODE: LONGING (SERIES: THE GREAT BOOK OF FEELINGS)
directed by Wiola Sowa, 7 min, EGoFILM, 2020
A series of funny stories about super-teacher Miłka, a theatre puppet clown and a group of endearing kindergarten kids. Each episode of the series talks about a different emotion. There are stories about longing, shame, contempt, jealousy, love and hate. At the end of each episode, we find practical advice for children and adults.
PILOT EPISODE: PRINCE (SERIES: THE TINY KINGDOM OF PRINCESS AURELIA)
directed by Marta Stróżycka, 7 min, EGoFILM, 2020
Who wouldn't like to be a princess? Or a prince! To walk around a palace in a crown, give orders and sit on a throne! No duties, just pleasure. But is this really what the life of a princess looks like? What if the crown doesn't fit, the throne is uncomfortable, the most beautiful dress in the world feels tight under your arms, and the Great Stuart keeps bothering you with decrees? And as if that weren't enough, an arrogant prince shows up under the tower. His name is longer than a giraffe's neck. An orange dragon comes out of the bushes eating fudge. How is one little Aurelia supposed to deal with all this? You will always find a way out of trouble as long as you have courage, a sense of humour and the strength of your convictions. Wise Yaga with Baba the Cat may also come in handy.
PILOT EPISODE: SINISTER SPAGHETTI (SERIES: BAYKA AT THE END OF THE WORLD)
directed by Marcin Podolec, Kacper Zamarło, 7 min, EGoFILM, 2022
Wiktoria and Bajka are travelling in search of their parents. They pass along smoking craters, extinct forests and debris, following mysterious lights in the sky. The world after a big explosion is not a place for a girl and a dog. But if we already have a girl and a dog there, all we can do is keep our fingers crossed for their journey!
THE LOST STAR
directed by Sofya Nabok, 6 min, EGoFILM, 2021
The main character is the adorable Dormouse. One dark night in the fields, Dormouse finds a smiling falling Star. Although they are much different, they immediately get along. Though they have a wonderful time playing together and crazy dancing, Dormouse knows her friend's place is in the sky. She feels she can't stall her any longer. It is a short story about an attempt to return home and selfless help given out of kindness. It proves you should never give up.
THE FALLEN TREE (SERIES: POMPIK THE BISION)
directed by Marta Wojciechowska-Witek, 7 min, EGoFilm, 2020
Somewhere in the depths of a vast, wild and green forest lives Pompik the Bison. Actually, one should call him a baby bison because Pompik is much smaller, weaker, slower and not so agile as his peers. He is no good for traditional bison games like horn pushing, scrimmage in the bushes or bison tag. Instead, he has other interests. Pompik is the most curious animal in the entire forest.
MISERABLE MORNING OF GRZMOCICH THE GIANT (SERIES: TAPPI THE WIKING)
directed by Łukasz Kacprowicz, 11 min, EGoFilm, 2018
Tappi the Viking lives in the enchanted Whispering Forest, which stretches along the banks of the Ice Gulf. Tappi is not a true Viking because he refuses to wield a sword. His smile, kindness and ingenuity are his greatest weapons.
SET IV
age group: 1st grade – 3rd grade – 52 min
THE WARSAW MERMAID (SERIES: POLISH FAIRY TALES)
directed by Paweł Czarzasty, 13 min, TV Studio Filmów Animowanych, 2016
The Warsaw Mermaid teaches that the love of freedom is the most important thing in life and that any attempt to take it away from someone will be severely punished. A curious little Mermaid swims upriver, deep into an unknown land. A quiet bend of the Vistula River becomes her haven. She befriends fish and crayfish. The Mermaid often sings, and her beautiful voice enchants Szymek, a local fisherman. To his astonishment, Szymek's father and brother capture the Mermaid and intend to sell her to the Prince.
UNUSUAL FRIENDSHIP (SERIES: POLISH FAIRY TALES)
directed by Robert Turło, 13 min, TV Studio Filmów Animowanych, 2016
Life unavoidably leads to old age, and respect for others is a part of a good life. Elderly animals, rejected by their human owners, meet in a forest: Donkey – because he was too weak to work anymore, Dog – because he failed to guard the farm, Cat – because he stopped hunting mice and Cock – because he would no longer crow at dawn. When the night falls, they set off to find a new home.
ABOUT A LUMBERJACK AND THE DEVILS  (SERIES: POLISH FAIRY TALES)
directed by Jacek Adamczak, 13 min, TV Studio Filmów Animowanych, 2015
The devil is not as black as he is painted. Once upon a time, in the last remaining forest in the area, there was Ranger looking after the three remaining wolves, very stressed by the birds' singing. There was also a Lumberjack who had nothing better to do but build new bird shelters. And there was a Devil who did what devils usually do: lead people into temptation. But the Devil was tempted himself by raspberries that Lumberjack received from Ranger for his work. Even Satan in hell was outraged and ordered the Devil to fix what he had done.
APOLEJKA AND HER DONKEY (SERIES: POLISH FAIRY TALES)
directed by Joanna Jasińska-Koronkiewicz, 13 min, TV Studio Filmów Animowanych, 2016
Charm, modesty and affirmation of life bring happiness. This fairy tale by Maria Krüger enchants with simplicity, modesty and a powerful message. Princess Apolejka lives in a tall tower. Since one hundred and seventy-six twisting stairs lead to her chamber, she rarely goes down to her garden. But one day, she hears a song about her, peeks outside and sees a Prince. But when Apolejka runs down the stairs, no one is there. Instead, she finds a donkey standing by a well.
SET V
(age group: kindergarten kindergarten – 1st grade) – 48 min
IN THE LAND OF KING SUNNY (SERIES: KIDNAPPING OF BALTAZAR GĄBKA)
directed by Edward Wątor, 7 min, Studio Filmów Rysunkowych, 1969
Wawel Dragon and Bartolini the Cook visit the land of King Sunny, who accuses them of being the only pale creatures in his kingdom.
ACROSS THE LAND OF THE RAINCOATS (SERIES: KIDNAPPING OF BALTAZAR GĄBKA)
directed by Stanisław Dülz, 7 min, Studio Filmów Rysunkowych, 1969
Bartolini the Cook and Wawel Dragon rush through the Land of Raincoats. Mean Don Pedro is setting traps for their car, but they manage to manoeuvre their way into safety.
DON PEDRO (SERIES: KIDNAPPING OF BALTAZAR GĄBKA)
directed by Wacław Wajser, 7 min, Studio Filmów Rysunkowych, 1970
The dragon and Bartolini the Cook save Don Pedro, who is so grateful that he promises to leave his saviours alone.
THE BALLAD OF A POLITE KNIGHT (SERIES: BALLADS)
directed by Józef Byrdy, 8 min, Studio Filmów Rysunkowych, 1987
A fearsome dragon is flying around a castle. Many brave men tried to scare him out of his den, but none succeeded. A knight famous for his politeness takes a chance and persuades the beast to leave the castle area. The dragon obediently complies with the polite knight's request.
THE BALLAD OF A CAPRICIOUS PRINCESS (SERIES: BALLADS)
directed by Józef Byrdy, 9 min, Studio Filmów Rysunkowych, 1979
A princess wants to attend a ball in a dress made of snowflakes. Tailors satisfy her whim, which leads to her humiliation at a ball when her gown melts down into a puddle.
THE BALLAD OF KING SULKY THE WHISKERED (SERIES: BALLADS)
directed by Józef Byrdy, 10 min, Studio Filmów Rysunkowych, 1980
An evil fairy casts a spell on a little prince making him constantly angry and sulky. Ever since he gets up from his bed on the left foot, and once he becomes the king, he orders his subjects to do the same, so everyone is grumpy. Unexpectedly, a merry student arrives and replaces the king's bed so that he starts getting up on the right foot, restoring joy and laughter in the land.
SET VI
(age group: kindergarten) – 44 min
BASIA AND THE MESS (SERIES: BASIA)
directed by Marcin Wasilewski, Łukasz Kacprowicz, 11, Grupa Smacznego, 2019
In this episode Basia is very enthusiastic about a new challenge – household chores. The girl is excited that, like other family members, she has her own duties. She realises, however, that the mess can grind a five-year-old's gears. Basia is doing her best to succeed, but the mess is filling out every nook and cranny in the house. It is a story about childish determination when confronted with everyday life, which tends to be too much even for adults.
BASIA AND MUM AT WORK (SERIES: BASIA)
directed by Marcin Wasilewski, Łukasz Kacprowicz, 11 min, Grupa Smacznego, 2019
Basia is used to mum taking care of the house and dad working. But her family goes through a revolutionary change: mum has to write a schoolbook and needs to work from home. It is hard for Basia and other family members to understand that it is an important job and that mum can't do household chores and write all at once. This story teaches us that every type of work matters and that changes in family life and parents making mistakes are absolutely natural.
BASIA AND TITI (SERIES: BASIA)
directed by Marcin Wasilewski, Łukasz Kacprowicz, 11 min, Grupa Smacznego, 2019
When a dark-skinned boy joins her kindergarten group, Basia is thrilled and can't wait to play with a new friend. But it won't be easy. Little Titi is very shy and speaks a foreign language. To make matters worse, Basia's friend, Anielka, spends all the time she used to spend with her with the boy. This story shows children how to react to the Other and teaches attention and empathy. It helps navigate emotions such as anger, sadness and jealousy because they all come in handy in life.
BASIA AND CHRISTMAS (SERIES: BASIA)
directed by Marcin Wasilewski, Łukasz Kacprowicz, 11 min, Grupa Smacznego, 2019
Christmas is a big event in Basia's life. Other members of the family want it to be perfect. Usually, mum supervises everything, but this time she slipped on gingerbread dough and injured herself. Can they prepare everything without her? Who will bake gingerbread cookies, decorate the tree and clean all that mess? It is a story about the imperfect, though wonderful Christmas, during which children and adults learn a valuable lesson.
SET VII
(age group: kindergarten) – 42 min
BIG ONE AND SMALL ONE (SERIES: HUG ME)
directed by Tomek Miazga, 6 min, Animoon, 2019
While learning how to become a big and strong bear Teddy discovers and appreciates the benefits of being small.
THE PAINTERS (SERIES: HUG ME)
directed by Anna Błaszczyk, 6 min, Animoon, 2019
After seeing a colourful rainbow in the sky, Teddy and Daddy try their luck as painters using DIY paints and inventing some very particular techniques.
A COOL LIFE (SERIES: HUG ME)
directed by Anna Błaszczyk, 6 min, Animoon, 2019
Teddy thinks that birds, worms and fish live a cool life because they can fly, play in the sand and swim all day. Soon, with a little help from Daddy, he will realise that their life is very cool too.
YOU HAVE MY WORD (SERIES: HUG ME)
directed by Tomek Miazga, Klaudia Robat, 6 min, Animoon, 2019
Daddy and Teddy meet bungee jumpers on the bridge. Bears take a look at things left by humans with curiosity.
THE BUNGEE (SERIES: HUG ME
directed by Tomek Miazga, Klaudia Robat, 6 min, Animoon, 2019
Daddy and Teddy meet bungee jumpers on the bridge. Bears take a look at things left by humans with curiosity.
THE MARATHON (SERIES: HUG ME)
directed by Tomek Miazga, Klaudia Robat, 6 min, Animoon, 2019
There is going to be a marathon in the forest, and the Bears want to find out what this mysterious event is all about.
OUT-OF-SET SCREENING
MRS TWARDOWSKA
directed by Lechosław Marszałek, 13 min, Polska, 1956 (age group: 1st-6th grade)
A motion picture illustration of a well-known poem by Adam Mickiewicz created to commemorate the 100th anniversary of the poet's death.
FEATURE FILMS
REVANGE
directed by Andrzej Wajda, 100 min, Polska, 2022
(age group: 7th-8th grade)
Raptusiewcz the Cup-bearer, who shares a castle with much-hated Milczek the Notary, wants to marry recently widowed Podstolina, deputy pantler's wife, to take over her wealth. What he doesn't know is that the woman seeks a wealthy husband herself. Fully aware of his physical imperfections and lack of manners, Raptusiewicz asks Papkin to match them up. Papkin paints himself as a womaniser and a great hero, but he's cowardly, delusional and infatuated with Clara, Raptusiewicz's niece, who is in reciprocated love with Milczek's son, Wacław.
BLACK MILL
directed by Mariusz Palej, 101 min, Polska, 2021
(age group: 3rd-6th grade)
Iwo and his friends live in a small town where nothing exciting ever happens. The boy's life is further complicated by the fact that his younger sister, Mela, requires special care. Hungry for adventure, the group of friends is fascinated by the ruins of a large factory building known as the Black Mill. When they ignore warnings and enter the forbidden area, strange things start to happen in their sleepy town.
TOO OLD FOR FAIRY TALES
directed by Kristoffer Rus, 103 min, Polska, 2022
(age group: 3rd-6th grade)
A sensitising story about a boy who takes a big step towards growing up by facing hardship and proves that #ChildrenHavePower.
KING MATTHEW I
directed by Wanda Jakubowska, 89 min, Polska, 1957
(age group:4th-5th grade)
A screen adaptation of a novel by Janusz Korczak, the film offers insight into the mechanisms of power using conventional production design and a small number of props. A child's naivety, idealism and noble ambition to launch reforms paired with a lack of skill lead to disorder.
THE ISLAND OF DELINQUENTS
directed by Stanisław Jędryka, 85 min, Polska, 1965
(age group:4th-6th grade)
A film adaptation of the first novel in a popular series about the adventures of Mr Automobile by Zbigniew Nienacki. It is in this film that the moniker Mister Automobile is used for the first time.
THE DAY OF CHOCOLATE
directed by Jacek Piotr Bławut, 80 min, Polska, 2018
(age group: 2nd-6th grade)
Monika and Dawid are going to share a friendship but also a common secret. Together with them, discover the mystery of the old clock and the world inhabited by Time Devourers. Wake up the mad Time Runner. Find out who the mysterious Zuzia the cat really is and why Monika is wearing a Hawaiian hula skirt. And if you are brave enough, see for yourself if these two kids will face the evil witch to save the precious memories of their loved ones. The only thing that is certain in this world is that you cannot turn back time – you can only eat it.