Polish Film Institute Awards Ceremony
21 września | 21:00 - 22:30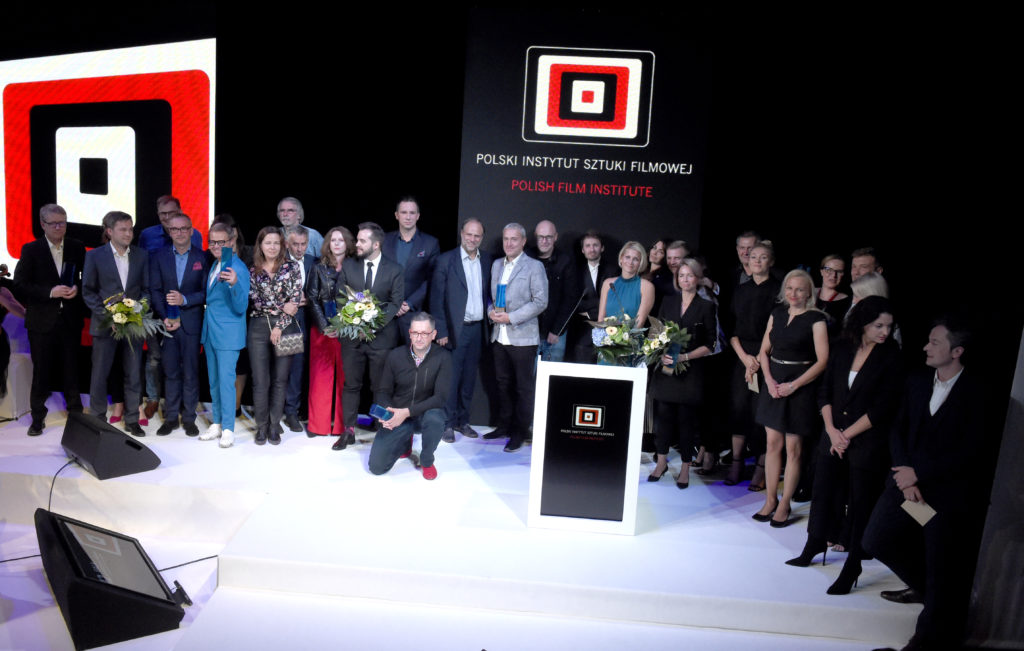 The Polish Film Institute Awards Ceremony will be held on the New Stage of the Musical Theatre.
Winners will receive awards in nine categories: cinema, film event, Polish film promotion abroad, film critique, book on film, film education, Film Discussion Club, Polish film distribution, and film poster.
Final nominations have been approved on 30th August 2021 by the chapter consisting of: director of  the Polish Film Institute Radosław Śmigulski, head of the Film Production and Film Project Development Department Małgorzata Szczepkowska-Kalemba, film critic and publicist Łukasz Adamski, director of Zachęta – National Gallery of Art Hanna Wróblewska, historian and journalist Piotr Zaremba, editor-in-chief of Osnova Publishing Izabela Bartosz, and film critic and publicist of weekly newsmagazine "Polityka" Janusz Wróblewski.
Cinema:
Nowe Horyzonty Cinema in Wrocław
Muza Cinema in Włoszczowa
Pod Baranami Cinema in Krakow
Film Event:
WAJDA exhibition at the National Museum in Krakow
Octopus Film Festival 2020
Mojeekino – virtual screening rooms of arthouse cinemas
Polish film promotion abroad:
Aurum Film and New Europe Film Sales – Oscar camaign of Corpus Christi Jan Komas
Polish Docs PRO 2019 i 2020
Film Discussion Club PLEOGRAF in Łuck
Film Critique: 
Diana Dąbrowska
Błażej Hrapkowicz
Łukasz Knap
Book on film:
Rockefellerowie i Marks nad Warszawą. Polskie filmy fabularne wobec transformacji gospodarczej [The Rockefellers and Marx over Warsaw. Polish feature film in the face of economic transformation] by Michał Piepiórka
1000 filmów, które tworzą historię kina [1000 Films Which Create the History of Cinema] by Piotr Kletowski
Dystrybucja Filmowa. Od kina do streamingu [Film Distribution. From Cinema to Streaming] by Anna Wróblewska and Sławomir Rogowski
Film education:
Film Spring Open Workshop (Foundation Film Spring Open)
Podcast Spoiler Master, hosted by Michał Oleszczyk
WAJDA exhibition at the National Museum in Krakow
Polish film distribution:
Polish Film Festival VISTULA in Russia (Fundacja Wspieram)
Distribution of Scandal (Best Film CO)
Film Discussion Club:
Film Discussion Club "Niespodzianka" (Youth Centre "Pałac Młodzieży" in Bydgoszcz)
Film Discussion Club "Kropka" (C. K. Norwid Culture Centre in Krakow)
Film Club "Ambasada" (Polskie Forum Edukacji Europejskiej and Kosmos Cinema)
Film poster:
Kill It and Leave This Town by Krzysztof Iwański
Prime Time by Krzysztof Iwański
Scandal by Kuba Bogacki, Krzysztof Seyfried, and Aleksander Znosko
Polish Film Institute Awards
Polish Film Institute Awards are a special mention in the film industry, which appreciates the work of persons and institutions that aren't connected with film production. This is the only Polish award with the goal to mention exceptional achievements supporting the development of Polish cinematography, promoting its works, and making Polish films more accessible to the society.
The awards have been awarded since 2008. The candidates can be nominated by cultural institutions, film schools, local authorities, NGO institutions connected with culture and other entities and persons working in the cultural sector.