REGULATION OF THE AUDIO-VISUAL LABOUR MARKET
15 września | 10:15 - 13:40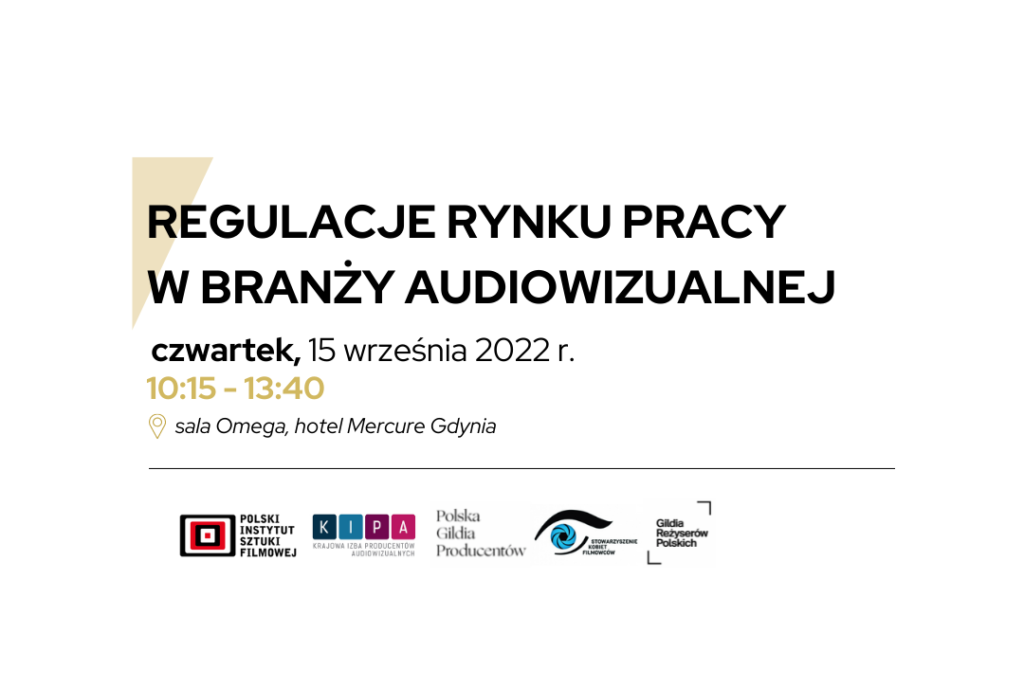 In recent years, the subject of working conditions in the audio-visual sector has been raised with increasing frequency and clarity. There have been calls for the introduction of an eleventh-hour working day, new trade unions have been established, more artists' guilds are being created, and the community is steering toward self-regulation. Representatives of all major production teams are present at the PFF in Gdynia, so the Festival is a natural place for lobbying activities and pushing forward discussions on the changes that need to be introduced.
During the meeting, we will name the problems to be solved by the proposed changes, discuss possible solutions to be implemented, including good practices from other European markets, and create a list of demands and goals to achieve in a one-year and five-year perspective.
We will discuss the necessary changes in working on a film set in the context of maternity and paternity and the regulation of working conditions in the film industry. We will also present the recommendations of a coalition of film organisations for shooting intimate scenes on Polish film sets.
EVENT PARTNERS: Polish Film Institute, Producers Guild of Poland, Polish Audiovisual Producers Chamber of Commerce, Polish Female Filmmakers Association, Filmmakers Union
PROGRAMME:
10.15 – 11.15 | Parenting on a film set.
Panelists: Anna Maliszewska, Barbara Białowąs, Hanna Margolis, Kuba Kosma, PFI representative
11.15 – 11.30 | Coffee break
11.30 – 13.00 | Regulation of working conditions in the film industry.
Panelists: Witold Płóciennik, Paulina Guźlińska, Dorota Roqueplo, Marcel Sławiński, Stanisław Zaborowski, Natalia Grzegorzek, Kuba Kosma, Jan P. Matuszyński, Kamil Przełęcki
13.00 – 13.30 | Coalition of film organisations – presentation of "Recommendations for shooting intimate scenes on Polish film sets".
Host Katarzyna Szustow
13.30 – 13.40 | Presentation of the preliminary findings of the Box Office Lab's report "Equal Opportunities" concerning the role of women in Polish cinema.
Host Izabela Kiszka-Hoflik