Tadeusz Wilkosz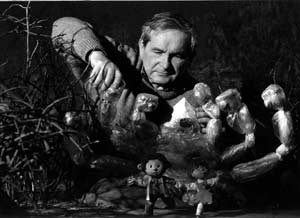 Born in 1934. He graduated from the Faculty of Film Graphic at School of Arts and Crafts in Prague. After practice in Czech animated film studios, he joined the Puppet Film Studio in Tuszyn. He debuted with "Mysie Figle" (1959). He made over 30 films. Artistic director, co-writer and author of the artistic projects of over 100 films.
He was awarded by the Prime Minister for his works for children and young people (1989) and received many prizes and awards at festivals in the country and abroad.
Filmography (full length):
1977: Colargol na Dzikim Zachodzie; 1978: Colargol zdobywcą kosmosu; 1979: Colargol i cudowna walizka; 1990: Niezwykłe przygody pluszowych misiów; 1997: Mom, Can Hens Talk?