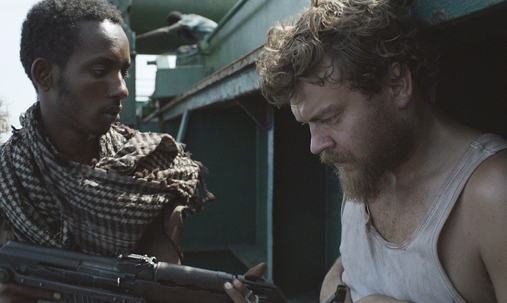 dir.
Tobias Lindholm
212
,
1 h 39 min
A story of a cargo ship and its crew hijacked by
Somali pirates. The seamen are taken hostage in a cynical game of life
and death. With the demand for a ransom of millions of dollars a
psychological drama unfolds between the CEO of the shipping company and
the pirates.
Written by: Tobias Lindholm
Director of photography: Magnus Nordenhof Jønck DFF
Music by: Hildur Gudnadottir
Production design by: Thomas Greve
Sound by: Morten Green
Editing by: Adam Nielsen
Cast: Pilou Asbæk, Søren Malling, Dar Salim, Roland Møller
Producers: Tomas Radoor & René Ezra
Produced by: Nordisk Film
Support: Danish Film Institute/ Duński Instytut Filmowy
In cooperation with: DR , Nordisk Film & TV Fond
World sales: TrustNordisk
Distribution in Poland: Spectator
Legend
Przegląd Polskiego Kina Niezależnego
Movie - Festival Programme
| | | DAY 1 - 18th September 2023 | | BUY |
| --- | --- | --- | --- | --- |
| | | DAY 2 - 19th September 2023 | | BUY |
| | | DAY 3 - 20th September 2023 | | BUY |
| | | DAY 4 - 21st September 2023 | | BUY |
| | | DAY 5 - 22nd September 2023 | | BUY |
| | | DAY 6 - 23rd September 2023 | | BUY |