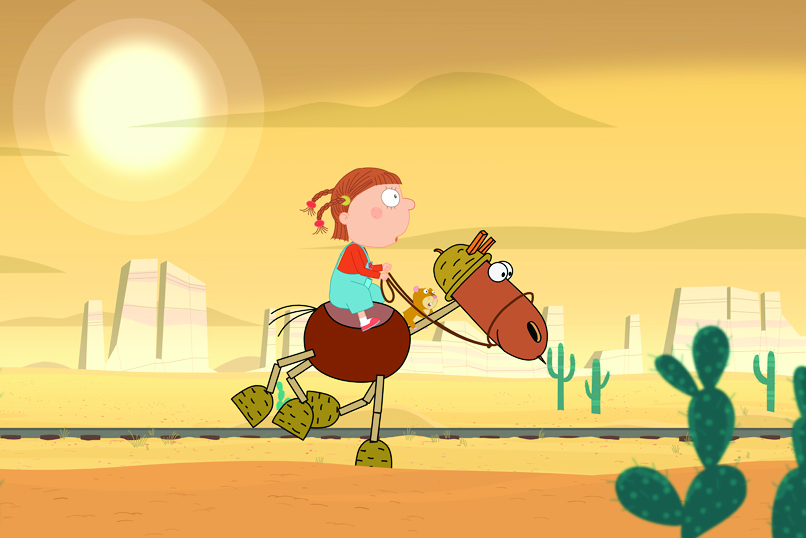 Agatha and the Cactus
dir.
Andrzej Piotr Morawski
2015
,
0 h 10 min
Agatha keeps watering the cactus standing in her room, although Cyryl
tells her that cacti don't like to have too much water. There is a horse
paddock made of chestnuts and plasticine standing on Agatha's desk.
Suddenly, she notices that the paddock is empty and the cactus is gone
from the sill. She decides to look for the horses and she and Cyryl are
transferred to the prairie. After many adventures she manages to find
the horses locked up by Cactus in a train wagon. Once she promises not
to water him all the time, the Cactus agrees to release the horses and
all return home safe and sound.
Film from Agatha series
directed and cinematography by Andrzej Piotr Morawski
written by Jan Steliżuk
graphic design and set decoration by Sławomir Zalewski, Aleksandra Vetter
music by Robert Ochnio
produced by Serafiński Studio
co-produced by TV Studio Filmów Animowanych, Narodowy Instytut Audiowizualny
Legend
Konkurs Fabularnych Filmów Krótkometrażowych
Movie - Festival Programme
| | | DAY 1 – 20th SEPTEMBER 2021 | | BUY |
| --- | --- | --- | --- | --- |
| | | DAY 2 – 21st SEPTEMBER 2021 | | BUY |
| | | DAY 3 – 22nd SEPTEMBER 2021 | | BUY |
| | | DAY 4 – 23rd SEPTEMBER 2021 | | BUY |
| | | DAY 5 – 24th SEPTEMBER 2021 | | BUY |
| | | DAY 6 – 25th SEPTEMBER 2021 | | BUY |