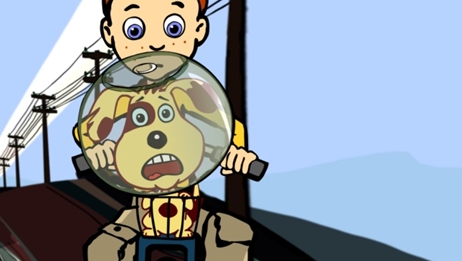 Animated Films set 2
– "Edward the Dogheart" ("Edward Psie Serce"), Directed by: G. Koncewicz, Serafinski Studio, Poland 2011
An adventurous story about friendship. A boy rescues a stray dog from danger and takes him under his roof.

– "A great masterpiece, we want to paint" ("Chcemy wielkie dzieło pacnąć"), Directed by: P. Furnankiewicz, Serafinski Studio, Poland 2010
Three schoolmates decide to paint a graffiti on the wall of the police station.
– "The Cosmic Class" ("Kosmiczna lekcja") Directed by: A.P. Morawski, Film Studio MTM, Poland 2010
A group of 8-year-old boys takes part with the rest of their class in a great cleaning, as well as in a contest organized by their teacher. Suddenly, a space ship lands by the nearby lake.

– "Fisherman at the Bottom of the Sea" ("Rybak na dnie morza"), Directed by: L. Galysz, Kuchnia Filmowa, Poland 2011
A new version of a fairy tale about a fisherman and a golden fish. This time it is the fish that has three wishes to make…
Legend
Przegląd Polskiego Kina Niezależnego
Movie - Festival Programme
| | | DAY 1 – 20th SEPTEMBER 2021 | | BUY |
| --- | --- | --- | --- | --- |
| | | DAY 2 – 21st SEPTEMBER 2021 | | BUY |
| | | DAY 3 – 22nd SEPTEMBER 2021 | | BUY |
| | | DAY 4 – 23rd SEPTEMBER 2021 | | BUY |
| | | DAY 5 – 24th SEPTEMBER 2021 | | BUY |
| | | DAY 6 – 25th SEPTEMBER 2021 | | BUY |