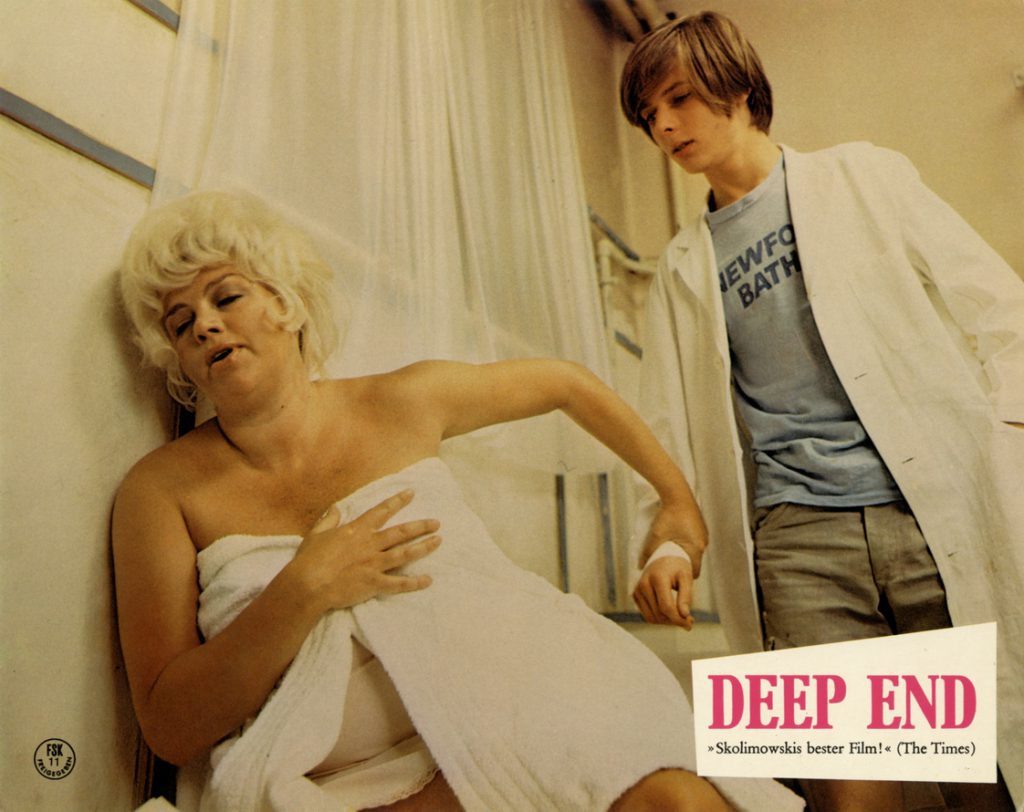 dir.
Jerzy Skolimowski
1970
,
1 h 28 min
15-year-old Mike leaves school to work at city baths full of erotic temptations. The boy falls in love with ten years older Susan, who seems to reciprocate his feelings. Soon enough, he finds out that she's engaged, sees other men and works as a prostitute in a nightclub. Mike decides to take revenge on her clients.
The film premiered internationally in 1971 to much critical acclaim and praise for its honesty and accurate diagnosis of contemporary youth. Skolimowski's picture was compared to classics of French New Wave, and Jane Asher got nominated for the BAFTA Award for her portrayal of Susan.
Jerzy Skolimowski co-wrote the screenplay with Bolesław Sulik, a famous publicist and director of documentaries, and Jerzy Gruza, the last-year recipient of the Platinum Lions.
written by Jerzy Skolimowski, Jerzy Gruza, Bolesław Sulik
director of photography Charly Steinberger
music Cat Stevens
production design Tony Pratt, Max Ott jr.
costume design Ursula Sensburg
make-up Elke Müller
sound Christian Schubert, Karsten Ullrich
edited by Barrie Vince
cast Jane Asher, John Moulder-Brown, Karl Michael Vogler, Christopher Sandford, Diana Dors
production Maran Film, Kettledrum Productions
producer Helmut Jedele
executive producer Judd Bernard
production manager Michael Bittins
Jerzy Skolimowski
d
irector, screenwriter, film actor, poet and painter. Born on 5
th
May 1938. Graduated in Ethnography from the University of Warsaw in 1959. Directing at the Lodz Film School was the next step in his education.
Already his first student films drew the attention of critics. Boxing won the Grand Prix at the 1962 International Sports Film Festival in Budapest. A boxer himself, the young filmmaker knew a lot about the disciplne. He also collaborated on the screenplays for such films as Innocent Sorcerers by Andrzej Wajda and Knife in the Water by Roman Polanski.
In 1963, he graduated in Directing, and in 1964 he made his feature debut, Identification Marks: None, mesmerising Jean-Luc Godard himself. Skolimowski used bits and pieces of his past student films. Unique attitude, boldness and a fresh eye secured him a place among the most influential Polish directors. His art has often been described as having a New Wave quality and categorised as a part of a trend called "Third" Polish cinema. Skolimowski created his own type of a character: a lost individualist, shying away from maturity and searching for his place in life. It's fair to say – in his own image. As Tomasz Jopkiewicz puts it, "he turned his face to the unique, blurred the line between a biography and a character, created his own lyrical, very self-ironic diary."
Since 1967, Skolimowski has been living abroad in Italy, Great Britain and the US. For more than a decade, he didn't make a single film, committing himself entirely to painting. He's also known for volumes of poems, e.g., Gdzieś blisko siebie (1958) and Siekiera i niebo (1959).
Immensely successful in arts, Skolimowski won the award for best screenplay for Moonlighting at the 1982 Festival de Cannes, Polish Academy Award for Best Director for Four Nights with Anna and a Special Award of the Jury at the 2015 Gdynia Film Festival for 11 Minutes.
He also performed as an actor in some of his films, e.g., Identification Marks: None, Walkover and Deep End as well as in a couple of Polish and foreign productions, such as A Slip-up by Jan Łomnicki, Operacja Samum by Władysław Pasikowski and Eastern Promises by David Cronenberg.