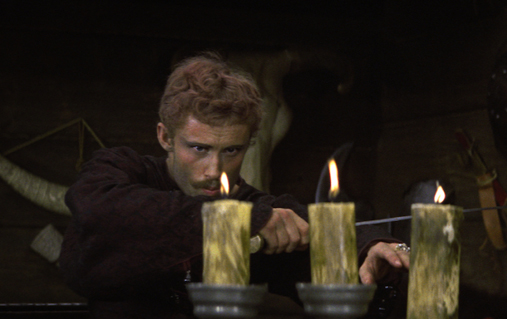 dir.
Jerzy Hoffman
2014
,
3 h 5 min
1655. A bannaret of Orsha, Andrzej Kmicic, comes to Wodokty to introduce himself to the fiancée meant for him – Oleńka Billewiczówna. The young couple fall in love with each other at first sight. However, the proud and impulsive nature of Kmicic gets him into trouble. At the same time, Swedes invade the Polish-Lithuanian Commonwealth. In order to expiate his guilt and regain the heart of his beloved one, Kmicic decides to fully devote himself to battling against the enemy.
The full version of the film has been digitized and digitally reconstructed by Magyar Filmlabor and Studio Produkcyjne Orka within the project of the National Film Archive's Digital Repository, thanks to the support of the Polish Film Institute and the Ministry of Culture and National Heritage as well as with the co-participation of TVN S.A. All the works were performed under the supervision of Jerzy Hoffman and professor Jerzy Wójcik. The reconstructed film has become the basis of a separate artistic project. Under the supervision of the director, the editor Marcin Kot Bastkowski created a new, shortened version of the film – "Deluge Redivivus".
The premiere of "Deluge Redivivus", which will open this year's Gdynia Film Festival, has been taken under the patronage of the President of the Republic of Poland, Bronisław Komorowski.
Separate invitations to the premiere screening of "Deluge Redivivus" apply.
Written by: Jerzy Hoffman, Adam Kersten, Wojciech Żukrowski, based on the novel "Potop" ("The Deluge") by Henryk Sienkiewicz
Director of photography: Jerzy Wójcik
Music by: Kazimierz Serocki
Production design by: Wojciech Krysztofiak
Set design by: Leonard Mokicz
Costume design by: Magdalena Tesławska
Military costume design and militaria by: Jerzy Szeski
Fencing choreography by: Waldemar Wilhelm
Make-up by: Maria Lasnowska
Sound by Stanisław Piotrowski, Jerzy Blaszyński
Editing of the original version by: Zenon Piórecki
Editing by: Marcin Kot Bastkowski
Cast: Daniel Olbrychski, Małgorzata Braunek, Tadeusz Łomnicki, Kazimierz Wichniarz, Władysław Hańcza, Leszek Teleszyński, Franciszek Pieczka, Bruno O'Ya, Ryszard Filipski
Produced by: Przedsiębiorstwo Realizacji Filmów Zespoły Filmowe
Production manager: Wilhelm Hollender
Digitisation and digital reconstruction: Magyar Filmlabor, Studio Produkcyjne Orka
Production of the shortened version: Filmoteka Narodowa
Copyright: Filmoteka Narodowa
Legend
Przegląd Polskiego Kina Niezależnego
Movie - Festival Programme
| | | | | BUY |
| --- | --- | --- | --- | --- |
| | | | | BUY |
| | | | | BUY |
| | | | | BUY |
| | | | | BUY |
| | | DAY 6 – 17th SEPTEMBER 2022 | | BUY |