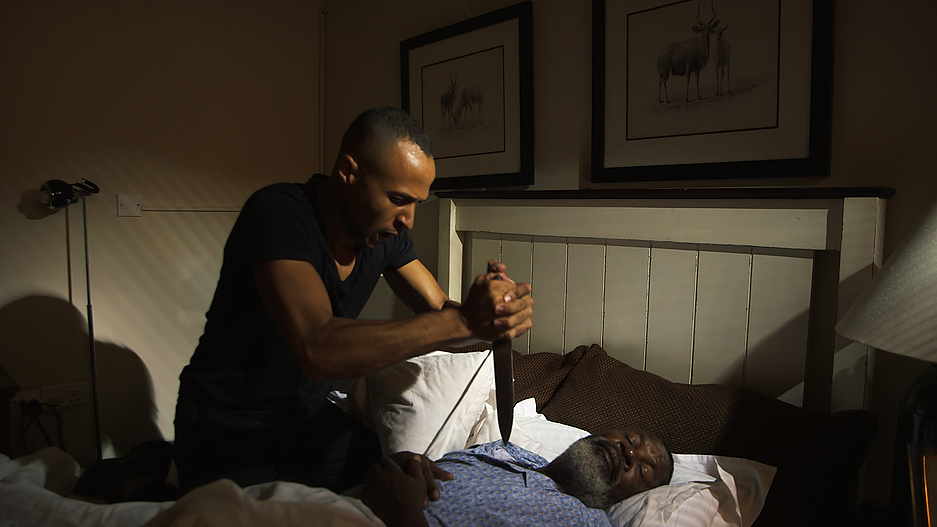 dir.
Agnieszka Piotrowska, Joe Njagu
2016
,
1 h 26 min
Charles, a man of mixed race in his twenties, discovers that his mother has been lying about the true identity of his father. On her deathbed, she convinces Charles to go to Zimbabwe and find the missing parent. What awaits is much different from what the son expects. Escape is a modern myth that combines African and Western archetypes: a naive hero, femme fatale, princess, witches, enigmatic prophecies and a deathbed confession. Given a rather negative representation of Zimbabwe in Western media, Escape strikes the balance. Without disguising anything, the film shows a beautiful country and its people: warm and friendly, spiritual and mysterious, noble and loyal.
written by Agnieszka Piotrowska
director of photography Joe Njagu
music Selmor Mtkudzi, Lovedale Discord, Mafriq, Guy Michelmore, Amanda Badze, Thinkspace
production design Josh Changa
costume design Alice Knuth
sound Kuda Sombi
edited by Anna Dobrowodzka
cast Jose Marques, Nothando Nobengula, Selmor Mtukudzi, Eddie Sandifolo, Daniel Tapera
producer Agnieszka Piotrowska
co-produced by Stewart Cornes, Joe Njagu, Carolyn Sole, Brendon Sole, Eric Witzgall

Agnieszka Piotrowska director, author and film theorist. For years, she was shooting for the BBC, Channel 4, Channel 5, National Geographic and Discovery. In 2012, obtained a PhD in Psychoanalysis and Film at Birkbeck, University of London. Her doctoral thesis and subsequent book Psychoanalysis and Ethics in Documentary Film investigate a power-love relationship in documentaries – a recurring theme in her creative and academic work. Particularly praised for Married to the Eiffel Tower (2008), a documentary about women who fall in love with objects instead of people.
Selected films
2004 Szansa (documentary)
Movie - Festival Programme
| | | DAY 1 - 18th September 2023 | | BUY |
| --- | --- | --- | --- | --- |
| | | DAY 2 - 19th September 2023 | | BUY |
| | | DAY 3 - 20th September 2023 | | BUY |
| | | DAY 4 - 21st September 2023 | | BUY |
| | | DAY 5 - 22nd September 2023 | | BUY |
| | | DAY 6 - 23rd September 2023 | | BUY |