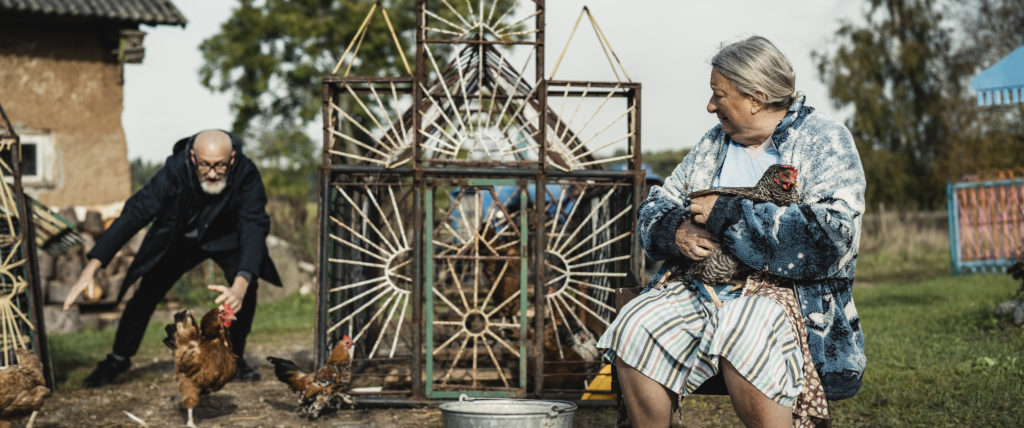 Fears
dir.
Łukasz Ronduda, Łukasz Gutt
2021
,
1 h 30 min
Daniel is respected by his village community as long as he bravely supports the fight for their affairs. He is in love with the boy next door, Olek, who is not ready to reveal his sexual identity. Their relationship develops in secret. When a teenage friend can no longer take homophobic attacks and commits a suicide, Daniel tries to convince the villagers to organise a service of the Stations of the Cross together for the intention of the victim. Those who used to be on his side, now turn their backs on him. Following a suggestion from a curator, Daniel takes part in an exhibition at a Warsaw art gallery. The fight against homophobia becomes an obstacle to his relationship with Olek.
Based on true events, a moving story of an artist raised in the countryside and very engaged in the activities of the Catholic Church.
directed by: Łukasz Ronduda, Łukasz Gutt
written by: Katarzyna Sarnowska, Michał Oleszczyk, Łukasz Ronduda
director of photography: Łukasz Gutt PSC
music: Marcin Lenarczyk
production design: Joanna Kaczyńska
costume design: Kalina Lach
make-up: Olga Nejbauer
sound: Mateusz Adamczyk, Sebastian Witkowski
edited by: Przemysław Chruścielewski, Kamil Grzybowski
casting by: Dawid Nickel
cast: Dawid Ogrodnik, Maria Maj, Andrzej Chyra, Agata Łabno, Jowita Budnik, Oskar Rybaczek, Jacek Poniedziałek
production: Serce
producenci: Kuba Kosma, PGP
co-produced by: Kino Polska
executive producer: Wita Sernecka
production manager: Eryk Więcławski
co-financed by: Polski Instytut Sztuki Filmowej
distributed by: TBC
Legend
Microbudget Film Competition
Movie - Festival Programme
| | | DAY 1 – 20th SEPTEMBER 2021 | | BUY |
| --- | --- | --- | --- | --- |
| | | DAY 2 – 21st SEPTEMBER 2021 | | BUY |
| | | DAY 3 – 22nd SEPTEMBER 2021 | | BUY |
| | | DAY 4 – 23rd SEPTEMBER 2021 | | BUY |
| | 17:30 | Fears | Teatr Muzyczny - Duża Scena | |
| | 09:00 | Fears | GCF - Sala Warszawa | |
| | 20:30 | Fears | Helios - Sala 3 | |
| | | DAY 5 – 24th SEPTEMBER 2021 | | BUY |
| | 12:00 | Fears | GCF - Sala Morskie Oko | |
| | 12:00 | Fears | Helios - Sala 1 | |
| | 12:00 | Fears | Helios - Sala 2 | |
| | 16:45 | Fears | Helios - Sala 3 | |
| | 20:45 | Fears | Helios - Sala 3 | |
| | 22:35 | Fears | Helios - Sala 3 | |
| | 16:45 | Fears | Helios - Sala 4 | |
| | 20:45 | Fears | Helios - Sala 4 | |
| | 22:35 | Fears | Helios - Sala 4 | |
| | | DAY 6 – 25th SEPTEMBER 2021 | | BUY |
| | 16:00 | Fears | GCF - Sala Warszawa | |
| | 08:15 | Fears | GCF - Sala Goplana | |
| | 12:30 | Fears | GCF - Sala Goplana | |
| | 08:15 | Fears | Helios - Sala 3 | |
| | 12:30 | Fears | Helios - Sala 3 | |