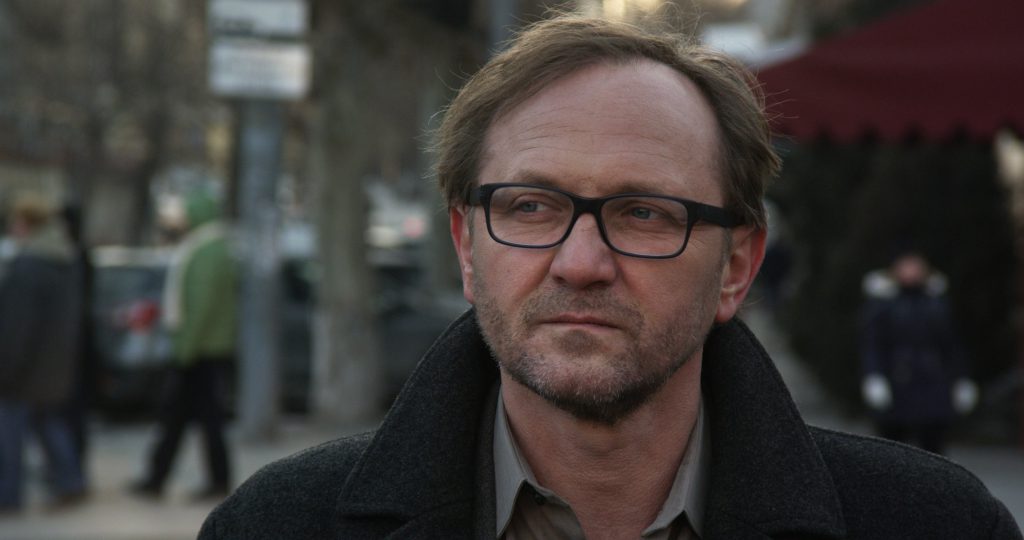 dir.
Sharunas Bartas
2017
,
1 h 55 min
Two young Lithuanians, Rokas and Inga, volunteer to join a humanitarian aid convoy from Lithuania to Ukraine, but their plans change on the road. They cross Poland and western Ukraine to enter snowy Donbass. Led by curiosity, Rokas and Inga approach the frontline to experience dangers of war at first-hand. Bartas's minimalistic road movie is characterised by dramatic asceticism, naturalistic, monochromatic visuals and slow narration. Emotionally restrained, Frost conveys a powerful universal truth about completely unspectacular suffering and brutality of war, mournful people and dreary, devastated land.
written by Sharunas Bartas, Anna Cohen-Yanay
director of photography Eitvydas Doskus, Patrycja Lewandowska
music Paweł Mykietyn
edited by Dounia Sichov
cast Mantas Janciauskas, Andrzej Chyra, Lyja Maknaviciute, Vanessa Paradis
production Studio Kinema, KinoElektron, Tato Film
producers Maria Blicharska, Rémi Burah, Jurga Dikciuviane, Volodymyr Filippov, Janja Kralj, Michel Merkt, Olena Yershova
co-financed by Polski Instut Sztuki Filmowej
distributed by Stowarzyszenie Nowe Horyzonty
Selected awards
2017 – Listapad Minsk International Film Festival (Main Feature Film Competition) – Best Director Award
Šarūnas Bartas director, screenwriter, producer, actor and composer. Born in 1964 in Šiauliai, Lithuania. Studied Directing at the Gerasimov Institute of Cinematography in Moscow. In 1989, in Vilnius, Bartas opened "Kinema" – the first independent film studio in Lithuania. In 1991, he directed his first feature Three Days awarded with the Prize of the Ecumenical Jury – Special Mention and the FIPRESCI Prize – Honourable Mention at the 1992 Berlinale. His next films received international accolades: The Corridor (1995) – FIPRESCI Award at the Viennale and Honourable Mentions at the Thessaloniki International Film Festival and Torino Film Festival; Freedom (2000) – CinemAvvenire Award for Best Film on the Relationship Man-Nature at the Venice Film Festival; Eastern Drift (2010) – Lithuanian Film Award 2010 for Best Director; Peace to Us in Our Dreams (2015) – Lithuanian Film Award 2016 for Best Director. Long-time collaborator of producer Paulo Branco. Šarūnas Bartas had a retrospective at the 15th T-Mobile New Horizons International Film Festival in Wroclaw.
Movie - Festival Programme
| | | | | BUY |
| --- | --- | --- | --- | --- |
| | | | | BUY |
| | | | | BUY |
| | | | | BUY |
| | | | | BUY |
| | | DAY 6 – 17th SEPTEMBER 2022 | | BUY |