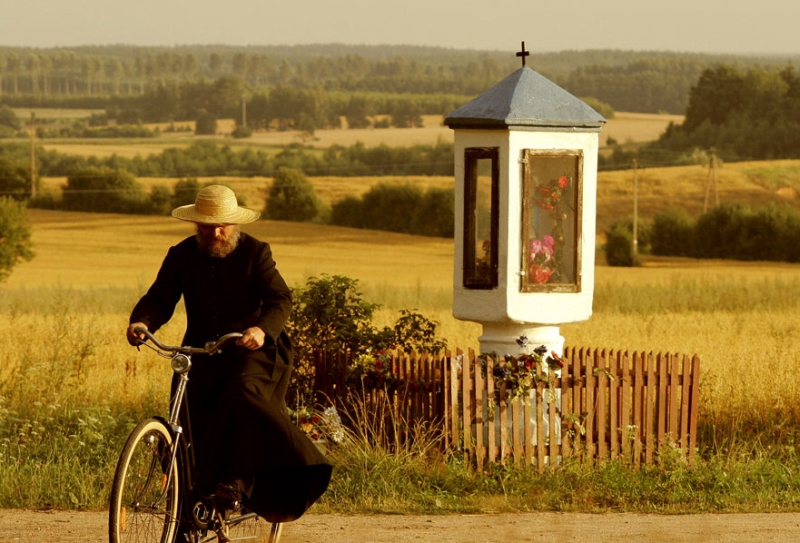 Non-commissioned officer Marian, the worst graduate of a police school on a year, is assigned to Królowy Most. The town is so calm that even he should be fine: complete boonies, nothing but woods and fields. The commissioner of the local police is too busy to keep an eye on him. But Królowy Most is visited by CBI officers who locate a state witness in a case of Milanówek mafia in a rented villa. Soon, a former gangster and a drunk driver of an off-roader is visited by the provost eager to get to know the new parishioner. The commissioner has other problems too: his daughter Luśka needs to find a husband, his father, a former sergeant, keeps climbing the tower and has to be brought down with the help of security guards and counterwoman Struzik's bosom and, to make the matters worse, Italian businessman wants to build a supermarket.
Written by: Jacek Bromski
Director of photography: Ryszard Lenczewski
Music by: Henri Seroka
Production design by: Marian Zawaliński
Sound: Jan Freda
Editing: Wojciech Mrówczyński
Costume design by: Małgorzata Obłoza
Production manager:
Produced by: Studio Filmowe OKO
Producer:Tadeusz Chmielewski, Jacek Bromski, Włodzimierz Otulak
Executive producer: Jan Włodarczyk
Co-produced by: WFDiF
Co-producers: Włodzimierz Niderhaus, Tadeusz Dorda
Distributed by: Vision Film Distribution
World sales: Vision Film Distribution
Country and year of production: Poland, 2007
Cast: Wojciech Solarz (Marian Cielęcki), Agata Kryska (Luśka, commissioner's daughter), Emilian Kamiński (Józef Czapla "Żuraw" aka Jerzy Bocian), Małgorzata Sadowska (Halinka Struzikowa), Krzysztof Dzierma (priest Antoni, provost in Królowy Most), Andrzej Zaborski (Henryk Wołkołycki, commissioner in Królowy Most), Aleksander Skowroński (Sergeant Ignacy, commissioner's father), Mieczysław Fiodorow (Mieczysław, Mayor of Królowy Most), Łukasz Simlat (Stasio, CBI officer)
Length: 115 min.
Movie - Festival Programme
| | | DAY 1 - 18th September 2023 | | BUY |
| --- | --- | --- | --- | --- |
| | | DAY 2 - 19th September 2023 | | BUY |
| | | DAY 3 - 20th September 2023 | | BUY |
| | | DAY 4 - 21st September 2023 | | BUY |
| | | DAY 5 - 22nd September 2023 | | BUY |
| | | DAY 6 - 23rd September 2023 | | BUY |