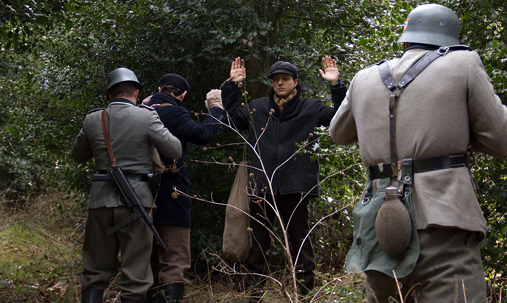 Heros of War – Poland: Enigma
dir.
Stuart Rose
2013
,
0 h 45 min
The cracking of the Nazi Enigma code is thought to be the sole achievement of Bletchley Park and it's resident code breakers. But the little known story of how a small team of Polish mathematicians led the way in to the struggle to decrypt Enigma will reveal the true story.
The race to crack the Nazi's Enigma code began not in the darkest depths of World War II but over a decade before the start of the war. Poland, faced with the growing threat from its neighbour, Nazi Germany, began a seemingly impossible project, to break the top secret messages encrypted with the new Enigma coding machines in the early 1930s.
Director of photography: Paweł Nazaruk, Peter Allibone, Will Pugh
Sound by: Grant Covacic
Editing by: Tony Appleton
Production manager:
Peter Guest
Produced by:
Richard Touch, Sky Vision
Postproduced by:
Sky Vision
Executive producers for the History Channel:
Rachel Job, Sarah Proctor
Executive producer:
Danny Tipping, Kathy Hale
SERIES PRODUCER:
Nick Clarke Powell
Legend
Przegląd Polskiego Kina Niezależnego
Movie - Festival Programme
| | | DAY 1 – 20th SEPTEMBER 2021 | | BUY |
| --- | --- | --- | --- | --- |
| | | DAY 2 – 21st SEPTEMBER 2021 | | BUY |
| | | DAY 3 – 22nd SEPTEMBER 2021 | | BUY |
| | | DAY 4 – 23rd SEPTEMBER 2021 | | BUY |
| | | DAY 5 – 24th SEPTEMBER 2021 | | BUY |
| | | DAY 6 – 25th SEPTEMBER 2021 | | BUY |