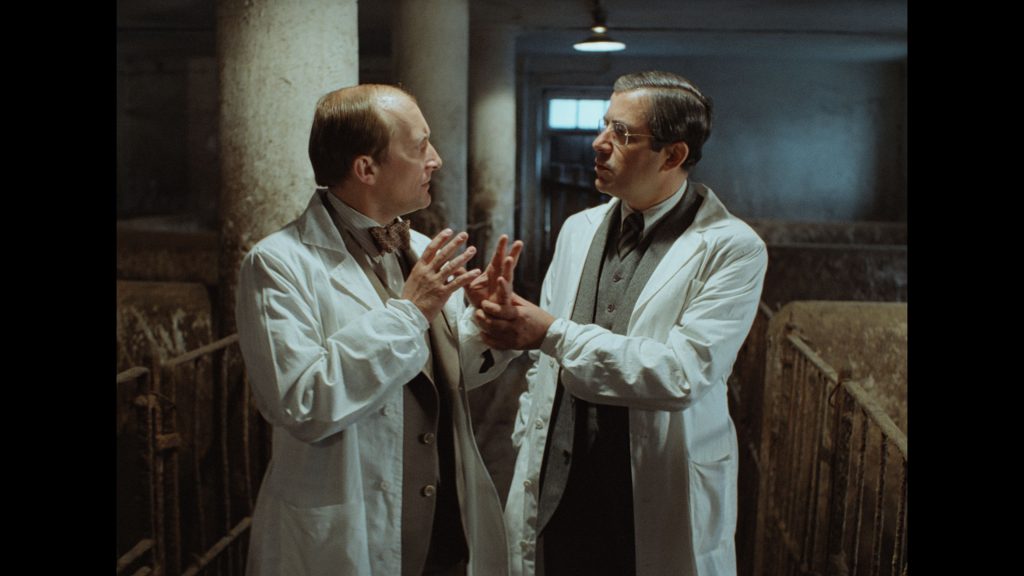 Hospital of the Transfiguration
dir.
Edward Żebrowski
1978
,
1 h 34 min
A moral treaty the plot of which is set in the beginning of Hitler's occupation in a psychiatric hospital under German liquidation; it undertakes the theme of responsibility in the conditions of total danger. The beginning of occupation. A closed world of the psychiatric hospital. Doctor Kauters values only surgical methods, dr Rygier is the adherent of strong rule of power, dr Marglewski regards psychiatric illness as a kind of spookiness, dr Nosilewska has escaped from Austria after its seizure by the Nazis. The literate Sekułowski is looking for shelter in the hospital. A young newcomer doctor Stefan doesn't want to be a passive viewer of the situation and events he witnesses…
(source: FilmPolski.pl)
written by Michał Komar, Edward Żebrowski based on the novel by Stanisław Lem
director of photography Witold Sobociński
music Stanisław Radwan
production design Tadeusz Wybult
costume design Ewa Braun
make-up Zygmunt Kaźmierski
sound Małgorzata Jaworska
edited by Urszula Śliwińska
cast Piotr Dejmek, Jerzy Bińczycki, Henryk Bista, Ewa Dałkowska, Gustaw Holoubek, Zygmunt Hübner, Adam Gessler,
production Zespół Filmowy Tor
production manager Tadeusz Drewno
Cyfrowe Repozytorium Filmowe (CRF) is the partner of the "Pure Classics – In Memoriam" section at the 42nd Polish Film Festival.
Movie - Festival Programme
| | | DAY 1 – 20th SEPTEMBER 2021 | | BUY |
| --- | --- | --- | --- | --- |
| | | DAY 2 – 21st SEPTEMBER 2021 | | BUY |
| | | DAY 3 – 22nd SEPTEMBER 2021 | | BUY |
| | | DAY 4 – 23rd SEPTEMBER 2021 | | BUY |
| | | DAY 5 – 24th SEPTEMBER 2021 | | BUY |
| | | DAY 6 – 25th SEPTEMBER 2021 | | BUY |