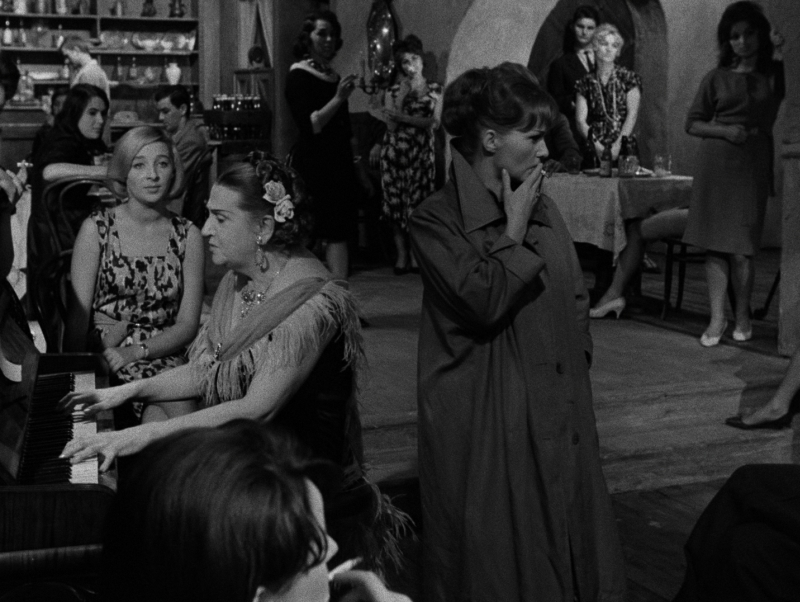 dir.
Wojciech Jerzy Has
1962
,
1 h 41 min
A plane heading for Paris becomes a time machine for Felicja (Barbara Krafftówna). She travels back in time to the war-time Cracow where during the Second World War she offered a safe hiding place to her greatest love, actor Wiktor Rawicz (Zbigniew Cybulski), hunted by the German secret police Gestapo. The internal monologue of the main heroine recounts the painful history of their relationship. As it shows, sacrifice was not enough for her to be loved while love could not save anyone.
An excellent film adaptation of the eponymous novel by Kazimierz Brandys. The only masterpiece of the Polish Film School with a heroine, a fact which stresses – through a mock reference to the famous scene from Ashes and Diamonds in which the heroes recall their fallen friends – the concealment of the war-time drama of women, which took place outside the boundaries of the great history, in the works of the authors of the Film School. The greatest part in the career of Barbara Krafftówna and Zbigniew Cybulski challenging the myth of Maciek Chełmicki, the protagonist of Ashes and Diamonds.
CYFROWE REPOZYTORIUM FILMOWE (DIGITAL FILM REPOSITORY) IS THE PARTNER OF PURE CLASSICS AT THE 38. GDYNIA FILM FESTIVAL.
Written by: Kazimierz Brandys
Production design by: Anatol Radzinowicz
Costume design by: Janina Koźmińska
Sound: Bohdan Bieńkowski
Editing: Zofia Dwornik
Make-up: Jan Dobracki, Irmina Romanis
Cast: Barbara Krafftówna, Zbigniew Cybulski
Legend
Przegląd Polskiego Kina Niezależnego
Movie - Festival Programme
| | | | | BUY |
| --- | --- | --- | --- | --- |
| | | | | BUY |
| | | | | BUY |
| | | | | BUY |
| | | | | BUY |
| | | DAY 6 – 17th SEPTEMBER 2022 | | BUY |