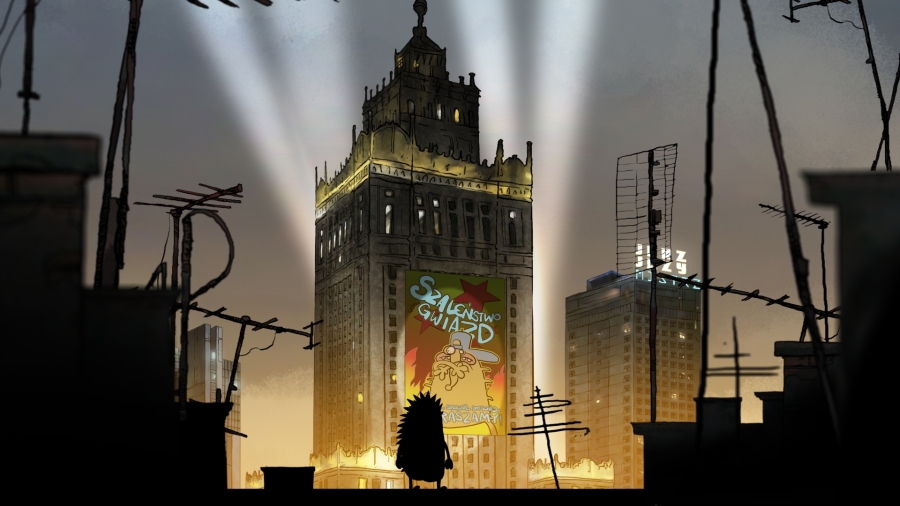 Jeż Jerzy: The Movie
dir.
Wojciech Wawszczyk, Jakub Tarkowski, Tomasz Leśniak
2011
,
1 h 20 min
With his baseball cap worn back to front, dashing between blocks on a skateboard, George is completely different from other hedgehogs. He likes good parties and nice chicks. Should he buy flowers for his sweetheart or a bottle of beer? – this is not a dilemma, the choice is obvious. Nevertheless, George the Hedgehog's life is not all roses, as he constantly has to fight for survival. He has a bone to pick with local skinheads and Vietnamese, who would cook five different kinds of chicken out of him with great pleasure. Then suddenly a mysterious Professor appears in his life. With difficulty he obtains George's DNA sample and creates his clone…
Polish Title: Jeż Jerzy
Written by: Rafał Skarżycki
Director of Photography: (animated movie)
Music: Jacek Szymkiewicz, Janek Duszyński, Krzysztof Zalewski
Production Design by: (animated movie)
Sound: Sebastian Witkowski, Mateusz Adamczyk
Film Editing: Wojtek Włodarski
Make-up: (animated movie)
Costume Design by: (animated movie)
Production manager: Marta Kapczyńska
Produced by: Paisa Films
Producer: Maciej Ślesicki, Jolanta Rojek, Eliza Oczkowska, Stanisław Dziedzic
Co-produced by: Film Produkcja, Warsaw Film School
Distribution: Monolith Films
Country & year of production: Poland 2011
Main Female Part: Maria Peszek (voice)
Main Male Part: Borys Szyc (voice)
Supporting Male Part: Jarosław Boberek (voice), Maciej Maleńczuk (voice)
Length: 80 min.
Legend
Przegląd Polskiego Kina Niezależnego
Movie - Festival Programme
| | | DAY 1 – 20th SEPTEMBER 2021 | | BUY |
| --- | --- | --- | --- | --- |
| | | DAY 2 – 21st SEPTEMBER 2021 | | BUY |
| | | DAY 3 – 22nd SEPTEMBER 2021 | | BUY |
| | | DAY 4 – 23rd SEPTEMBER 2021 | | BUY |
| | | DAY 5 – 24th SEPTEMBER 2021 | | BUY |
| | | DAY 6 – 25th SEPTEMBER 2021 | | BUY |