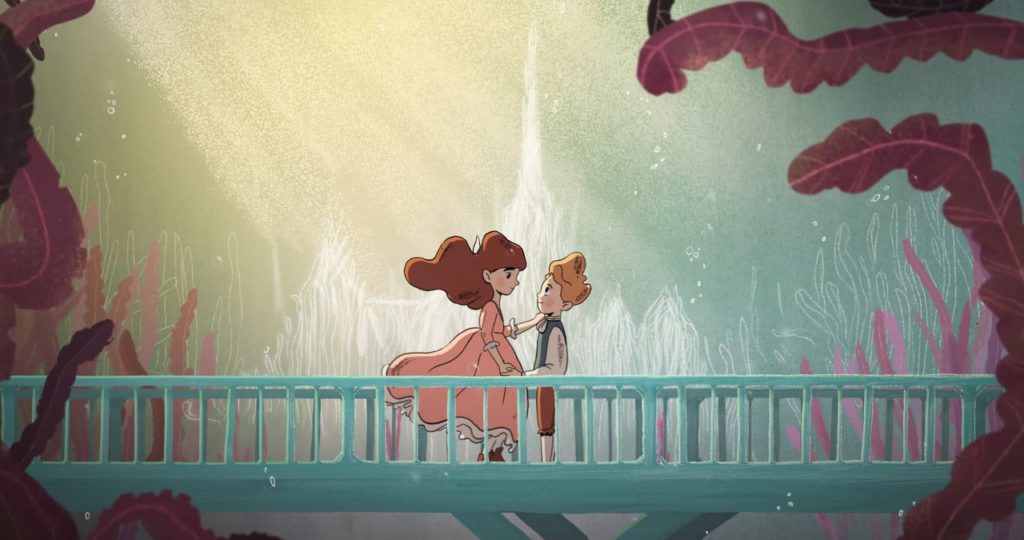 Klingert's Diving Suit
dir.
Artur Wyrzykowski
2021
,
0 h 20 min
6-year-old Bi is afraid of water ever since her younger brother drowned in a flood. Her father, Karl Klingert, devoted himself to designing the first diving suit in the world. Bi thinks that the suit is a monster manipulating her dad. With the help of Peter, a young rascal from the riverside, she wants to destroy the invention before the whole family moves out of Wrocław forever.
The film is a directing debut.
directed by: Artur Wykrzykowski
written by: Agata Koschmieder, Anna Stańko, Artur Wyrzykowski
director of photography: Marcin Podolec, Kacper Zamarło
music: Łukasz Mrozik
sound: Kuba Pietrzak
edited by: Maciej Gajewski
casting by: Studio Juice
cast: Antonina Krylik, Marcin Dorociński, Anna Gajewska, Tymon Krylik
production: Bold Humans
producer: Artur Wyrzykowski
co-produced by: Yellow Tapir Films, Juice, Centrum Technik Audiowizualnych, Dolnośląskie Centrum Filmowe, Eesti Joonisfilm, Muzeum Nurkowania
production manager: Artur Wyrzykowski
co-financed by: Polski Instytut Sztuki Filmowej, Ministerstwo Kultury Estonii
distributed by: Momakin
Legend
Microbudget Film Competition
Movie - Festival Programme
| | | DAY 1 – 20th SEPTEMBER 2021 | | BUY |
| --- | --- | --- | --- | --- |
| | 15:45 | Fruits and Vegetables, Klingert's Diving Suit, Just for a While, Goose | Teatr Muzyczny - Nowa Scena | |
| | 15:45 | Fruits and Vegetables, Klingert's Diving Suit, Just for a While, Goose | Helios - Sala 5 | |
| | 21:00 | Fruits and Vegetables, Klingert's Diving Suit, Just for a While, Goose | Online - Bulwar Nadmorski | |
| | | DAY 2 – 21st SEPTEMBER 2021 | | BUY |
| | 22:15 | Fruits and Vegetables, Klingert's Diving Suit, Just for a While, Goose | Helios - Sala 2 | |
| | 22:15 | Fruits and Vegetables, Klingert's Diving Suit, Just for a While, Goose | Helios - Sala 5 | |
| | 12:00 | Fruits and Vegetables, Klingert's Diving Suit, Just for a While, Goose | Online - Bulwar Nadmorski | |
| | | DAY 3 – 22nd SEPTEMBER 2021 | | BUY |
| | 18:00 | Fruits and Vegetables, Klingert's Diving Suit, Just for a While, Goose | Online - Bulwar Nadmorski | |
| | | DAY 4 – 23rd SEPTEMBER 2021 | | BUY |
| | 13:00 | Fruits and Vegetables, Klingert's Diving Suit, Just for a While, Goose | Teatr Muzyczny - Nowa Scena | |
| | 09:00 | Fruits and Vegetables, Klingert's Diving Suit, Just for a While, Goose | Online - Skwer Kościuszki | |
| | | DAY 5 – 24th SEPTEMBER 2021 | | BUY |
| | 15:00 | Fruits and Vegetables, Klingert's Diving Suit, Just for a While, Goose | Online - Bulwar Nadmorski | |
| | 15:00 | Fruits and Vegetables, Klingert's Diving Suit, Just for a While, Goose | Online - Skwer Kościuszki | |
| | | DAY 6 – 25th SEPTEMBER 2021 | | BUY |
| | 12:00 | Fruits and Vegetables, Klingert's Diving Suit, Just for a While, Goose | Online - Bulwar Nadmorski | |