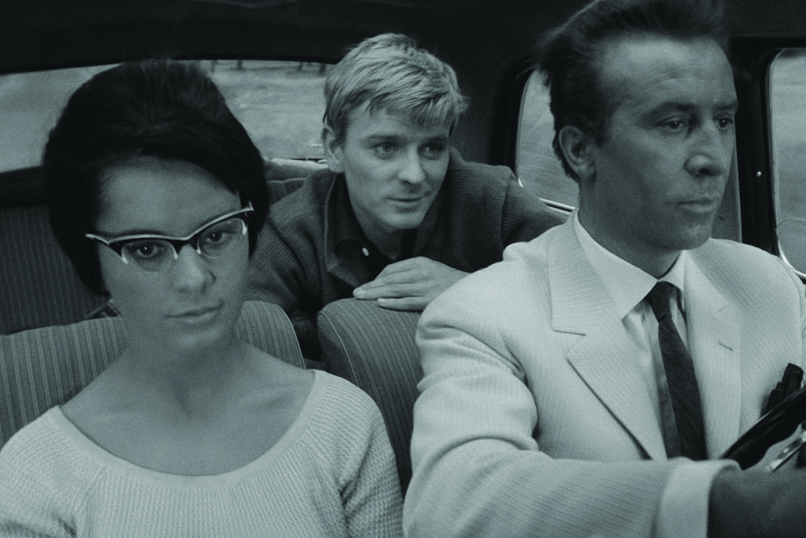 Knife in the water
dir.
Roman Polański
1961
,
1 h 35 min
A sports journalist and his wife plan to spend a Sunday on their yacht.
On their way to the marina they give a ride to a young hitch-hiker. On
the boat the two man start playing a game which reveals, that contrary
to appearances – the self-confident 40-year-old conformist and the
20-year old rebel – are both alike and unified in the same desire for
power, subjugation and the urge to possess. The woman wants her piece of
cake too…
Roman Polanski's legendary directorial debut,
surprises with the precision of its screenplay, the maturity of
directing, the masterful mise-en-scene (that Polanski owes partly to his
DoP Jerzy Lipman), and leading the actors. Plus the atmospheric score
by Krzysztof Komeda in the background.
directed by Roman Polański
written by Jakub Goldberg, Roman Polański, Jerzy Skolimowski
director of photography Jerzy Lipman
music by Krzysztof Komeda
production design by Bolesław Kamykowski
sound by Halina Paszkowska
edited by Halina Prugar
cast Leon Niemczyk, Jolanta Umecka, Zygmunt Malanowicz
dubbing cast Anna Ciepielewska, Roman Polański
produced by ZF Kamera
production manager Stanisław Zylewicz
Legend
Konkurs Fabularnych Filmów Krótkometrażowych
Movie - Festival Programme
| | | DAY 1 – 20th SEPTEMBER 2021 | | BUY |
| --- | --- | --- | --- | --- |
| | | DAY 2 – 21st SEPTEMBER 2021 | | BUY |
| | | DAY 3 – 22nd SEPTEMBER 2021 | | BUY |
| | | DAY 4 – 23rd SEPTEMBER 2021 | | BUY |
| | | DAY 5 – 24th SEPTEMBER 2021 | | BUY |
| | | DAY 6 – 25th SEPTEMBER 2021 | | BUY |