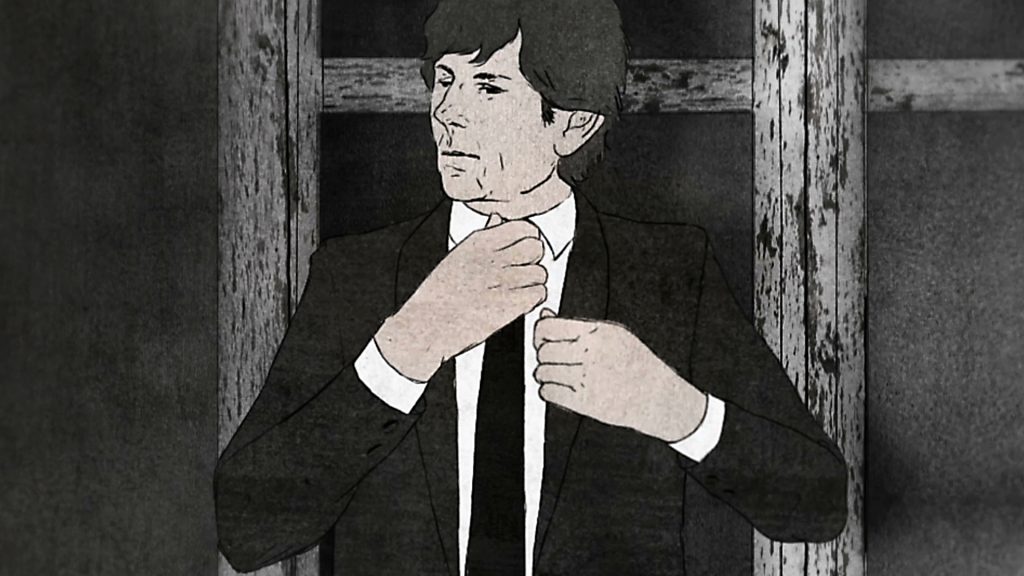 dir.
Ewa Drzewicka, Dominika Fedko, Małgorzata Jachna, Małgorzata Jędrzejec, Weronika Kuc Aleksandra Rylewicz, Grażyna Trela
2018
,
0 h 6 min
Animated film, about the formation of the Master, inspired by the work of Roman Polanski. Surrealistic picture with elements of macabre absurdity situation, metaphorical struggle of matter in shaping man and creator. Once "body substance" slides off the window, like the hero of the film The Tenant. Paradoxically, another collapse is shaping up a human figure who finally performs a master perfect somersault and strongly landed on the ground. The fully formed pratagonist is Roman Polanski – famous film director.
written by Grażyna Trela sound Michał Fojcik MPSE
edited by Weronika Kuc
production Akademia Sztuk Pięknych im. Jana Matejki w Krakowie
producer Robert Sowa
co-produced by Polski Instytut Sztuki Filmowej
executive producer Robert Sowa
production manager Agata Siwczyńska
co-financed by Polski Instytut Sztuki Filmowej
distributed by Krakowska Fundacja Filmowa

Grażyna Trela screenplay writer and director. Three-time winner of the HARTLEY-MERRILL
Screenplay Competition. Director of the documentary film
EROS-EX
awarded at the OFFensiva 2005 festival, and the short feature film
KLAJMAX
awarded at the QUEST EUROPE 2011. Co-author of the screenplay for the feature film
The Christening
awarded with Silver Lions at the FPFF Gdynia 2010.
Ewa Drzewicka, Dominika Fedko, Weronika Kuc, Małgorzata Jachna, Małgorzata Jędrzejec, Aleksandra Rylewicz graduates of the Graphic Department of the Academy of Fine Arts in Krakow, working with animation and design graphics.
Movie - Festival Programme
| | | DAY 1 - 18th September 2023 | | BUY |
| --- | --- | --- | --- | --- |
| | | DAY 2 - 19th September 2023 | | BUY |
| | | DAY 3 - 20th September 2023 | | BUY |
| | | DAY 4 - 21st September 2023 | | BUY |
| | | DAY 5 - 22nd September 2023 | | BUY |
| | | DAY 6 - 23rd September 2023 | | BUY |