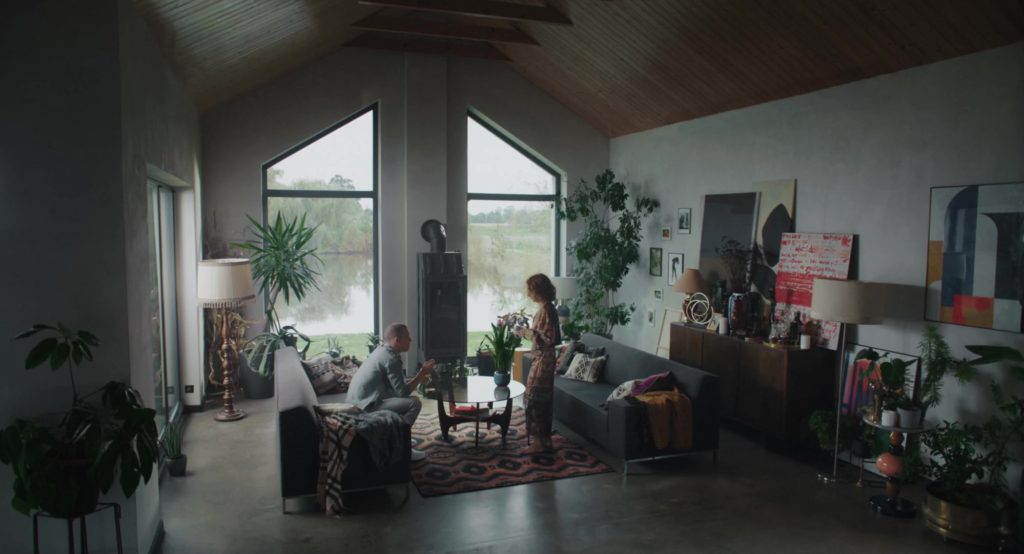 My Son Locks Himself Up in a Bathroom
dir.
Kuba Januszewski
2021
,
0 h 30 min
A wealthy architect attempts to prevent her 21-year-old son from moving out but fails to talk to him about it. The two of them start playing a game of false pretences.
The film is a directing debut.
directed by: Kuba Januszewski
written by: Kuba Januszewski
director of photography: Jakub Burakiewicz
production design: Mateusz Mioduszewski
costume design: Zuzanna Andruczyk
make-up: Maja Gawrońska
sound: Jarosław Downar, Adam Sypka
edited by: Piotr Paruch
cast: Rozalia Mierzicka, Sebastian Dela, Arkadiusz Brykalski
production: Stowarzyszenie Filmowców Polskich – Studio Munka
producers: Ewa Jastrzębska, Jerzy Kapuściński
co-produced by: TVN Film, HAKA Films
executive producer: Tomasz Morawski
production manager: Zuzanna Sawicz
co-financed by: Polski Instytut Sztuki Filmowej
distributed by: Stowarzyszenie Filmowców Polskich – Studio Munka
Legend
Microbudget Film Competition
Movie - Festival Programme
| | | DAY 1 – 20th SEPTEMBER 2021 | | BUY |
| --- | --- | --- | --- | --- |
| | 09:00 | Space Elevator, The Clench, Howling, My Son Locks Himself Up in a Bathroom | Teatr Muzyczny - Nowa Scena | |
| | 09:00 | Space Elevator, The Clench, Howling, My Son Locks Himself Up in a Bathroom | Helios - Sala 4 | |
| | 09:00 | Space Elevator, The Clench, Howling, My Son Locks Himself Up in a Bathroom | Helios - Sala 5 | |
| | 12:00 | Space Elevator, The Clench, Howling, My Son Locks Himself Up in a Bathroom | Online - Bulwar Nadmorski | |
| | | DAY 2 – 21st SEPTEMBER 2021 | | BUY |
| | 18:00 | Space Elevator, The Clench, Howling, My Son Locks Himself Up in a Bathroom | Helios - Sala 5 | |
| | 21:00 | Space Elevator, The Clench, Howling, My Son Locks Himself Up in a Bathroom | Online - Bulwar Nadmorski | |
| | | DAY 3 – 22nd SEPTEMBER 2021 | | BUY |
| | 13:00 | Space Elevator, The Clench, Howling, My Son Locks Himself Up in a Bathroom | Teatr Muzyczny - Nowa Scena | |
| | 09:00 | Space Elevator, The Clench, Howling, My Son Locks Himself Up in a Bathroom | Online - Bulwar Nadmorski | |
| | | DAY 4 – 23rd SEPTEMBER 2021 | | BUY |
| | 15:00 | Space Elevator, The Clench, Howling, My Son Locks Himself Up in a Bathroom | Online - Bulwar Nadmorski | |
| | | DAY 5 – 24th SEPTEMBER 2021 | | BUY |
| | 18:00 | Space Elevator, The Clench, Howling, My Son Locks Himself Up in a Bathroom | Online - Bulwar Nadmorski | |
| | | DAY 6 – 25th SEPTEMBER 2021 | | BUY |
| | 21:00 | Space Elevator, The Clench, Howling, My Son Locks Himself Up in a Bathroom | Online - Bulwar Nadmorski | |