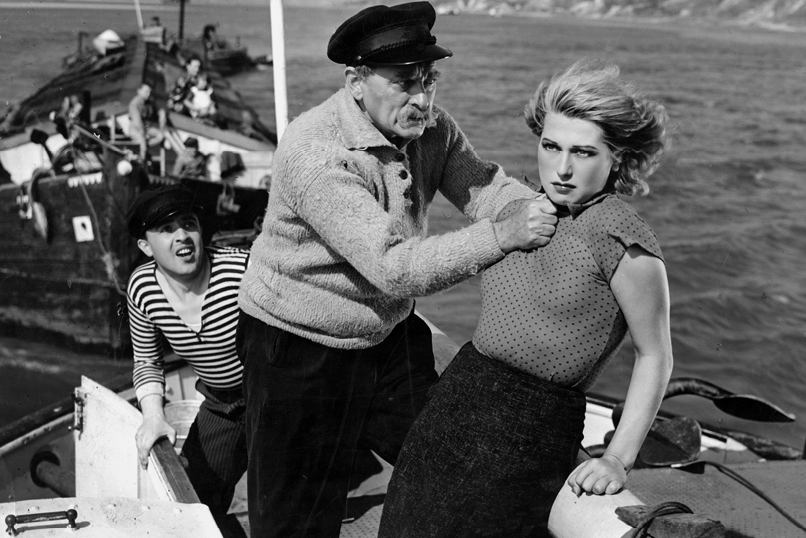 People of the Vistula
dir.
Aleksander Ford, Jerzy Zarzycki
1938
,
1 h 18 min
An interesting piece of cinematic realism. Contrary to most other films of those times the plot does not take place in the drawing rooms of the rich – it speaks of skippers and rafters sailing commercial barges and rafts along the Vistula River. The film was admired for its gorgeous outdoor scenes depicting the beauty of the wild Vistula. It may be interesting to know that the scenes were shot in riverside towns of Zawichost, Kazimierz, Płock and Toruń. The main roles are played by an outstanding drama actress, Stanisława Wysocka, Ina Benita and Jerzy Pichelski.
Thanks to digital restoration we are presenting the film in an incomparably better quality, complemented with five minutes of recovered fragments.
directed by Aleksander Ford , Jerzy Zarzycki
written by Helena Boguszewska , Jerzy Kornacki
based on Helena Boguszewska and Jerzy Kornacki's novel
director of photography Stanisław Lipiński
production design by Jacek Weinreich (Wajnrajch)
music by Marian Neuteich , Roman Palester
lyrics by Władysław Broniewski
sound by Z. Bryl , Fryderyk Gawze , L. Nadel , Karol Siegel
make-up by Aida
stills Wacław Zawadzki
production manager Andrzej Łomakowski
produced by Legia-Film
atelier and lab Sfinks
distributed by Europa-Film
cast Stanisława Wysocka (Apolonia Matyjas zwana Matyjaską), Ina Benita (Anna), Jerzy Pichelski (Aleksy Rorat), Halina Zawadzka (Karola, pasażerka statku), Renata Renee (Julcia, siostra Anny), Aleksander Zelwerowicz (Zawadzki, były mąż Matyjaski), Kazimierz Gella (szyper Józef Firlej, ojciec Anny), Kazimierz Jenoval (Zygmunt Siudowski, mąż Julci), Kazimierz Opaliński (szyper Dobrzałkowski), Marian Trojan (bosman Hajnuś), Lucjana Bracka (Erna Kufke, ciotka Anny), Helena Zarembina (kobieta w porcie)
Legend
Konkurs Fabularnych Filmów Krótkometrażowych
Movie - Festival Programme
| | | DAY 1 – 20th SEPTEMBER 2021 | | BUY |
| --- | --- | --- | --- | --- |
| | | DAY 2 – 21st SEPTEMBER 2021 | | BUY |
| | | DAY 3 – 22nd SEPTEMBER 2021 | | BUY |
| | | DAY 4 – 23rd SEPTEMBER 2021 | | BUY |
| | | DAY 5 – 24th SEPTEMBER 2021 | | BUY |
| | | DAY 6 – 25th SEPTEMBER 2021 | | BUY |