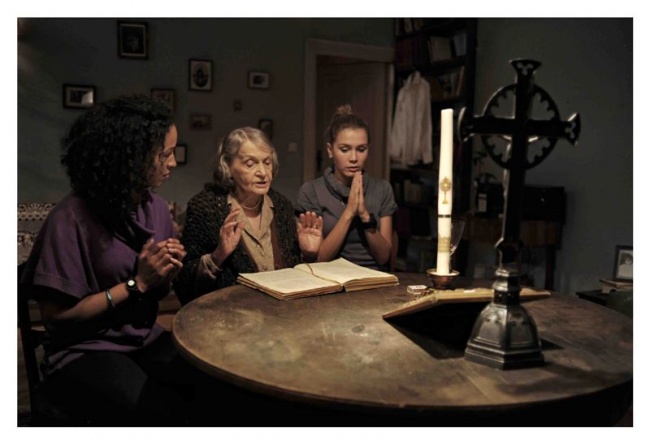 dir.
Jacek Lusiński
2009
,
1 h 40 min
The film in a puckish way tells the story about a modern Poland. Four arches are linked by a mobile phone which appears through the film from hand to hand – from character to a character of each story. Alicja – a young and uncompromising tabloid journalist – spies on a famous singer and loses her track in the forest where she's forced to spend the night. There she meets a mysterious old man who tells her a few facts from his life.
One evening, Filip – a young, clumsy and misfit businessman – leaves his pregnant wife just before the birth. His boss gives him an order to provide a "fun night" for a Japanese visitor who is going to officially open a factory of LCD TVs the next day.
Two hooligans attack grandma Anastazja in her apartment. The intruders plunge the flat and torture the woman in search of her life savings. But the oldie is clever and uses their weaknesses and conflicts to provoke an open fight between them.
Monika is a lesbian living in London. After finding out about her grandfather's death, she comes to Poland with her black partner Karen. Girls are late for the funeral and stay at the old man's apartment where strange things start to happen: objects are moving, ghosts appear and a phone – dead and yet full of strange sounds – won't stop calling.
Directed by: Jacek Lusiński
Written by: Jacek Lusiński
Director of photography: Jan Holoubek, Piotr Piesiak, Witold Płóciennik
Music by: Paweł Lucewicz
Production design by: Marta Bołtowicz
Sound: Kacper Habisiak
Editing: Jarosław Barzan
Costume design by: Rafał Kowalski
Make-up: Pola Gruzińska
Production manager: Katarzyna Janus
Produced by: Tandem Taren – To
Producer: Piotr Miklaszewski, Wojciech Maryański
Co-produced by: Telekomunikacja Polska, Mojotribe, Felini, Spectator, Film Ilumination, The Chimney Pot
Distribution: Vivarto
Actresses in leading roles: Anna Cieślak, Maria Klejdysz, Olga Bołądź
Actors in leading roles: Mieszko Barglik, Paweł Ferens, Bartłomiej Nowosielski
Movie - Festival Programme
| | | | | BUY |
| --- | --- | --- | --- | --- |
| | | | | BUY |
| | | | | BUY |
| | | | | BUY |
| | | | | BUY |
| | | DAY 6 – 17th SEPTEMBER 2022 | | BUY |