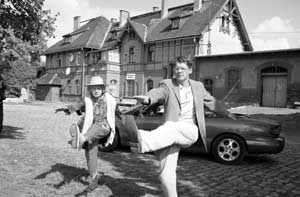 Part of the TV series "Święta polskie". Young, handsome and wealthy Piotr buys a neglected villa from an eccentric old lady called Mimi. Mimi is a painter who enjoys recollecting her youth: studies at the Academy of Fine Arts and trips after most picturesque landscapes. Clouds were her favorite. That's why back then she was called the Queen of Clouds. Her son died tragically and she never recovered from that painful experience. Now, she treats Piotr like her son. Meanwhile, the man plans on putting her in a retirement home but doesn't have a gut to tell her. That's why he cooks up a lie. Driving a luxurious cabriole, he takes Mimi at the seaside where they're supposed to change for a boat to Rio de Janeiro in order to visit Mimi's dead sister. The old lady lives in her own world and refuses to admit that her family is long gone. During their trip, she gives Piotr a hard time with her whims. The man can't wait to get rid of her to spend some time with his girlfriend Kasia. Relieved to have left Mimi in a facility lead by nuns, Piotr meets Kasia in an elegant hotel. But the girl suddenly finds him selfish and incapable of love. A lonely night makes him think.
Written by: Radosław Piwowarski
Director of photography: Piotr Wojtowicz
Production design by: Michał Hrisulidis
Costume design by: Małgorzata Obłoza
Editing: Sławomir Filip
Sound: Andrzej Bohdanowicz
Cast: Danuta Szaflarska (Mimi), Wojciech Malajkat (Piotr), Anna Przybylska (Kasia), Bogdan Kalus (Sergeant), Zdzisław Kuźniar (track driver), Adam Cywka (policeman), Wojciech Kuliński (policeman), Joanna Jeziorna (shopkeeper), Robert Kowalski (security guard), Bolesław Abart (grill guy), Elżbieta Wróblewska (stationmaster)
Production manager: Kamil Przełęcki
Produced by: Polish Television Film Agency
Executive producer: Studio Filmowe "Perspektywa"
World sales: Telewizja Polska S.A.
Movie - Festival Programme
| | | | | BUY |
| --- | --- | --- | --- | --- |
| | | | | BUY |
| | | | | BUY |
| | | | | BUY |
| | | | | BUY |
| | | DAY 6 – 17th SEPTEMBER 2022 | | BUY |