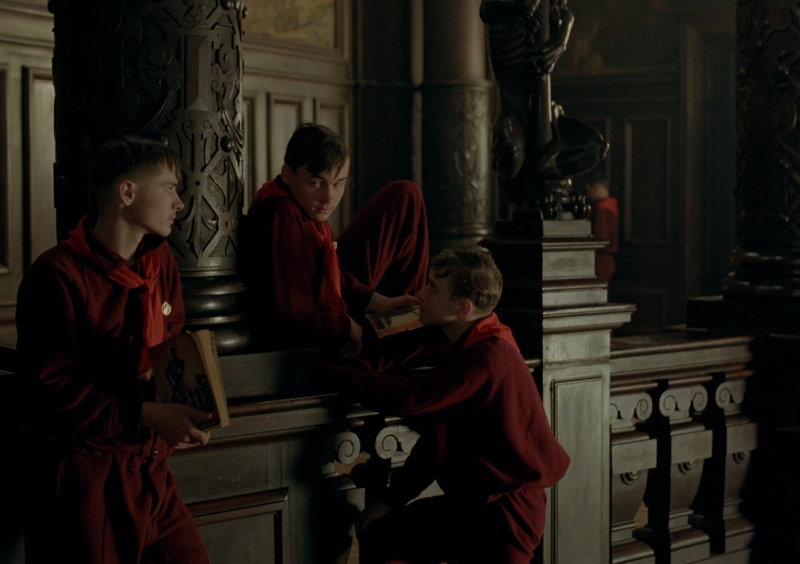 Shivers
March 1955. The 13 year old Tomek witnesses the brutal house search and the arrest of his father by the Secret Police UB. The intelligent and sensitive boy is sent by the school to a training camp for the future leaders organised by the Polish Youth Organisation ZMP. Seeing the hypocrisy of the authorities, he opposes them symbolically as a member of the secret club of listeners of Radio Free Europe. However, he falls victim of the charms of the girl scout leader, an alluring but at the same time motherly impersonation of the system. Only the eponymous shivers suggest that he does not surrender entirely. The shivers continue from moment the boy arrives until the end of the camp, brought to a premature close due to the Poznań Incidents in June 1956. They serve as a symbol of the body fighting against the infection of the totalitarian ideology.
Powerful autobiographical tale of false initiation and the allure of ideology. Awarded the Silver Bear in Berlin, it is one of the most important and the most interesting films dealing with the Stalin era, banned from distribution after the introduction of the Martial Law in 1981.
CYFROWE REPOZYTORIUM FILMOWE (DIGITAL FILM REPOSITORY) IS THE PARTNER OF PURE CLASSICS AT THE 38. GDYNIA FILM FESTIVAL.
Produced by: PRF "Zespoły Filmowe" – Zespół "Tor"
Movie - Festival Programme
| | | DAY 1 – 20th SEPTEMBER 2021 | | BUY |
| --- | --- | --- | --- | --- |
| | | DAY 2 – 21st SEPTEMBER 2021 | | BUY |
| | | DAY 3 – 22nd SEPTEMBER 2021 | | BUY |
| | | DAY 4 – 23rd SEPTEMBER 2021 | | BUY |
| | | DAY 5 – 24th SEPTEMBER 2021 | | BUY |
| | | DAY 6 – 25th SEPTEMBER 2021 | | BUY |