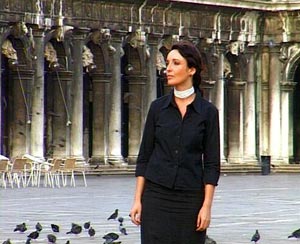 The Garden of Earthly Delights
Lech Majewski's latest film is an adaptation of his own novel "Metafizyka". The main characters are Luis – a ship engineer and a loner living in the world of symmetry and arithmetic – and Bea – an Italian fascinated by Hieronymus Bosch's paintings and Middle-age alchemy. Both of them look for their place in the world and on a number of ways try to find and speak out the truth about their lives. Luis records every moment they spend together and Bea attempts to sort out the clues hidden in Bosch's painting "The Garden of Earthly Delights" leading to an earthly paradise. Similarly to the novel, all the events take place in Venice and London. The only change involves the names of the main characters – now it's Claudia and Chris, just like the actors. The director wanted them to be even closer to the characters they play. In order to achieve this, also a film crew was reduced to the absolute minimum with the actors themselves shooting each other in many scenes. "I wanted to introduce a strong element of intimacy that I've never seen before in a so called 'normal' cinema", said Lech Majewski.
Based on the promotional materials.
Written by: Lech Majewski (based on his own book "Metafizyka")
Director of photography: Lech Majewski
Music by: Lech Majewski, Józef Skrzek
Production design by: Susanna Codognato, Lech Majewski
Costume design by: Catherine Buyse Dian
Editing: Eliot Ems
Sound: Jeremy Adamson, Lech Brański, Grzegorz Lindemann
Cast: Chris Nightingale, Claudine Spiteri, Barry Chipperfield, Novella Martinoli
Production manager: Marta Plucińska
Produced by: Mestiere Cinema via Della Industria, Metaphysics Ltd.
Co-produced by: Angelus Silesius, Lech Majewski, Polish Television Film Agency, WFDiF, Multimedia Park
Executive producer: Federico Film
Producers: Guido Cerasuolo, Lech Majewski
Distributed by: Gutek Film
World sales: Mestiere Cinema via Della Industria
Movie - Festival Programme
| | | | | BUY |
| --- | --- | --- | --- | --- |
| | | | | BUY |
| | | | | BUY |
| | | | | BUY |
| | | | | BUY |
| | | DAY 6 – 17th SEPTEMBER 2022 | | BUY |