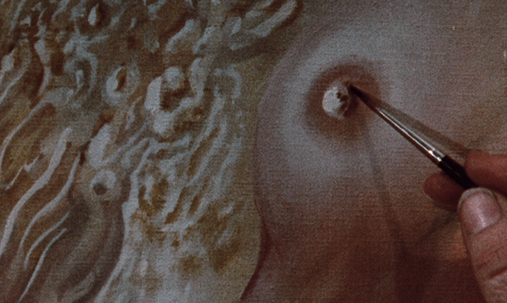 The Greatest Love of All Times (L'amour monstre des tous les temps)
dir.
Walerian Borowczyk
1977
,
0 h 10 min
A hectically spliced, slice in the life of Paris based Serbian surrealist, Ljuba Popović.
As with Brief von Paris, Borowczyk nimbly shoots Ljuba at work using a compact
16mm Russian Krasnogorsk camera. Edited in an almost stream of consciousness
fashion to the sounds of Wagner's Tannhäuser overture, The Greatest Love
of All Times harks back to Borowczyk's beginnings not just as a painter, but also
a keen documentarian of artists (e.g. Atelier de Fernand Léger, 1954).
Written by: Walerian Borowczyk
Director of photography: Walerian Borowczyk
Editing by: Walerian Borowczyk
Cast: Ljuba Popović
Produced by: Anatole Dauman
Legend
Przegląd Polskiego Kina Niezależnego
Movie - Festival Programme
| | | DAY 1 – 20th SEPTEMBER 2021 | | BUY |
| --- | --- | --- | --- | --- |
| | | DAY 2 – 21st SEPTEMBER 2021 | | BUY |
| | | DAY 3 – 22nd SEPTEMBER 2021 | | BUY |
| | | DAY 4 – 23rd SEPTEMBER 2021 | | BUY |
| | | DAY 5 – 24th SEPTEMBER 2021 | | BUY |
| | | DAY 6 – 25th SEPTEMBER 2021 | | BUY |