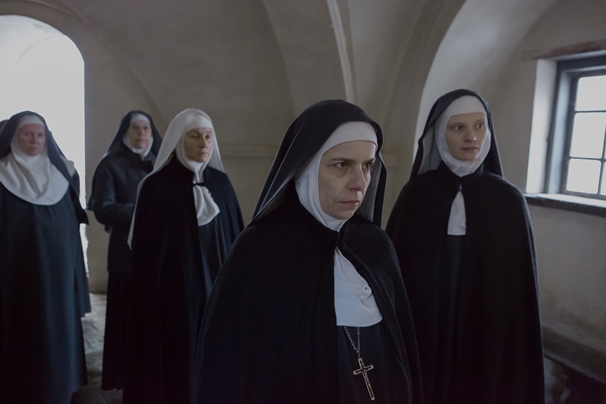 dir.
Anne Fontaine
2016
,
1 h 55 min
Poland, winter 1945. A very young doctor, Mathilde Beaulieu, works
at a hospital of the French Red Cross which is to find, cure and
repatriate French citizens saved from German camps. A nun from a convent
a few kilometres away appears at the hospital begging for help for a
dying woman. The problem is a nun in
labour… It turns out that
the nuns were mass raped by Red Army soldiers. The nun asks Mathilda if
she could come to the convent in secret. The Mother Superior wishes to
avoid scandal at any cost.
written by Sabrina B. Karine, Alice Vial
director of photography Caroline Champetier
music by Grégoire Hetzel
production design by Joanna Macha, Anna Pabisiak
costume design by Katarzyna Lewińska
make-up by Anna Nobel-Nobielska
sound by Olivier Mauvezin, Francis Wargnier, Jean-Pierre Laforce
edited by Annette Dutertre
cast Lou de Laâge, Agata Buzek, Agata Kulesza, Vincent Macaigne, Joanna Kulig, Eliza Rycembel, Katarzyna Dąbrowska, Anna Próchniak, Helena Sujecka, Mira Maludzińska, Dorota Kuduk, Klara Bielawka, Thomas Coumans, Leon Natan-Paszek, Mariusz Jakus
produced by Mandarin Cinema
producers Eric Altmayer, Nicolas Altmayer
production managers Dagmara Bończyk, Thibault Mattei
co-produced by Aeroplan Film, Mars Films, France 2 Cinema, Scopepictures
co-producers Eliza Oczkowska, Klaudia Śmieja
associate producers Philippe Carcassonne, Isabelle Grellat Doublet
co-financed by Eurimages, Polski Instytut Sztuki Filmowej
Legend
Konkurs Fabularnych Filmów Krótkometrażowych
Movie - Festival Programme
| | | DAY 1 - 18th September 2023 | | BUY |
| --- | --- | --- | --- | --- |
| | | DAY 2 - 19th September 2023 | | BUY |
| | | DAY 3 - 20th September 2023 | | BUY |
| | | DAY 4 - 21st September 2023 | | BUY |
| | | DAY 5 - 22nd September 2023 | | BUY |
| | | DAY 6 - 23rd September 2023 | | BUY |