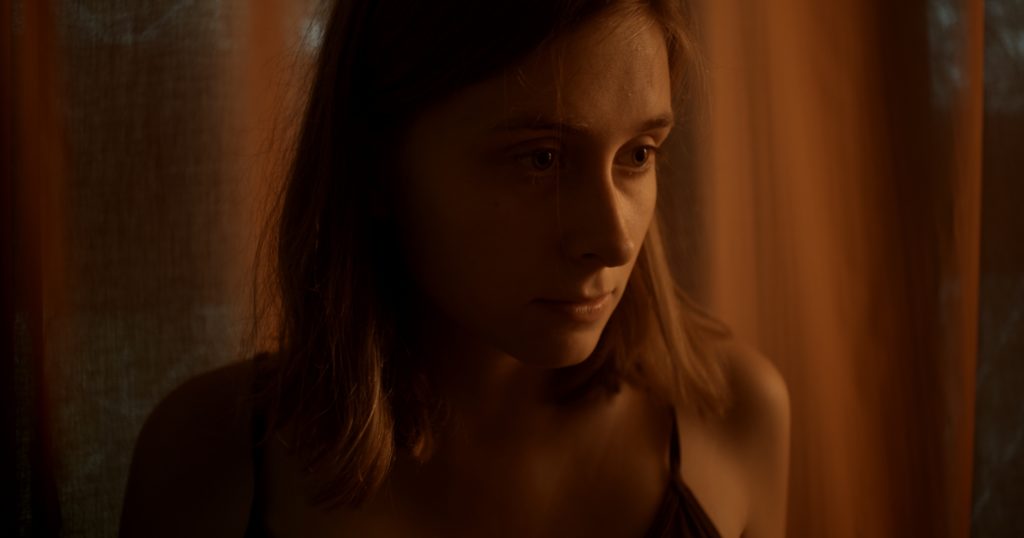 The Last Movie Before the End of the World
dir.
Agnieszka Kalińska
2021
,
0 h 20 min
Amidst the impending doom, two characters collide: Dominika, hiding in an old cinema, and Wanda – hungry for more. The time has come to decide if changing their personal stories at the eleventh hour is worth a shot.
Created mostly by women, the film manifests girl power and sensitivity.
directed by: Agnieszka Kalińska
written by: Agnieszka Kalińska, Aleksandra Hulbój
director of photography: Paulina Kowol
production design: Aleksandra Rysak, Jakub Grabarczyk
costume design: Karolina Złocka
make-up: Karolina Złocka
sound: Lucyna Wielopolska
edited by: Zuzanna Matusik
cast: Helena Urbańska, Klaudia Janas
production: Państwowa Wyższa Szkoła Filmowa, Telewizyjna i Teatralna w Łodzi
production manager: Zofia Rodak
co-financed by: Polski Instytut Sztuki Filmowej
Legend
Microbudget Film Competition
Movie - Festival Programme
| | | DAY 1 – 20th SEPTEMBER 2021 | | BUY |
| --- | --- | --- | --- | --- |
| | 11:15 | Synthol, Eden House, The Last Movie Before the End of the World, The Nest | Helios - Sala 4 | |
| | 11:15 | Synthol, Eden House, The Last Movie Before the End of the World, The Nest | Helios - Sala 5 | |
| | 18:00 | Synthol, Eden House, The Last Movie Before the End of the World, The Nest | Online - Bulwar Nadmorski | |
| | | DAY 2 – 21st SEPTEMBER 2021 | | BUY |
| | 20:15 | Synthol, Eden House, The Last Movie Before the End of the World, The Nest | Helios - Sala 2 | |
| | 20:15 | Synthol, Eden House, The Last Movie Before the End of the World, The Nest | Helios - Sala 5 | |
| | 15:00 | Synthol, Eden House, The Last Movie Before the End of the World, The Nest | Online - Bulwar Nadmorski | |
| | | DAY 3 – 22nd SEPTEMBER 2021 | | BUY |
| | 21:00 | Synthol, Eden House, The Last Movie Before the End of the World, The Nest | Online - Bulwar Nadmorski | |
| | | DAY 4 – 23rd SEPTEMBER 2021 | | BUY |
| | 10:00 | Synthol, Eden House, The Last Movie Before the End of the World, The Nest | Teatr Muzyczny - Nowa Scena | |
| | 09:00 | Synthol, Eden House, The Last Movie Before the End of the World, The Nest | Online - Bulwar Nadmorski | |
| | | DAY 5 – 24th SEPTEMBER 2021 | | BUY |
| | 12:00 | Synthol, Eden House, The Last Movie Before the End of the World, The Nest | Online - Bulwar Nadmorski | |
| | | DAY 6 – 25th SEPTEMBER 2021 | | BUY |
| | 09:00 | Synthol, Eden House, The Last Movie Before the End of the World, The Nest | Online - Bulwar Nadmorski | |