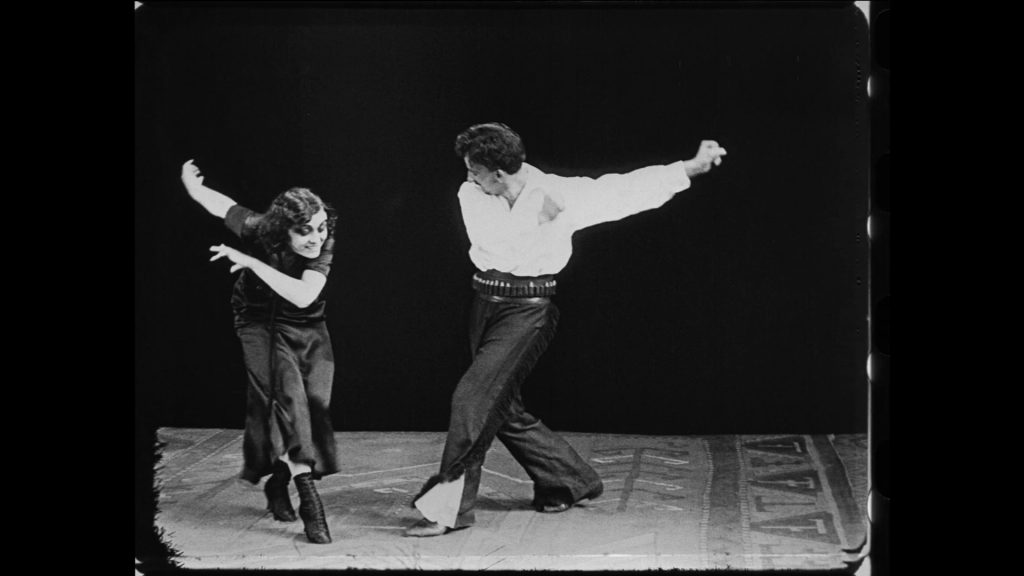 dir.
Aleksander Hertz
1917
,
1 h 2 min
A tragic story of a love triangle. Provincial girl Pola uses her admirer Dimitri to run away home. She travels to a big city where she becomes a dancer and gets to know a rich man named Alexis, but Dimitri follows her trail. Beast is the oldest and the only extant film from the Polish period of Pola Negri's career, the star of Sfinks. In 1921, after she'd arrived in German cinema, the film was distributed in the US as The Polish Dancer and falsely advertised as a novelty. In 2017, to celebrate its 100th anniversary, the only saved American copy of Beast was digitally restored in 4K resolution by the National Film Archive.

This year's edition of Pre-war Cinema Treasures features Pola Negri (Apolonia Chałupiec, 1897–1987) – the first Polish film star and still the only Pole to make her American dream come true in Hollywood. A historical figure of European and world cinema, vamp, trendsetter and (co-)creator of her own legend.
Films selected for the section were shot in the first period of Pola Negri's career, a dissatisfied ballerina whose health issues forced her to retire and a budding dramatic actress discovered by Alexander Hertz, the owner of Sfinks Film Studio. Together they made nine films which transformed Negri into the first Polish femme fatale ruining lives of men who fall in love with her. Out of these nine films, only Beast with Pola's trademark expressive dance routine survived to our times. Mania. The History of a Cigarette Factory Worker is one of Negri's first films shot in Germany after she infamously broke the contract with Sfinks. Produced by Union, the film was well-received and very popular in Poland, but Negri erased it from her official filmography regarding the co-operation with the film production company UFA and director Ernst Lubitsch as the beginning of her Berlin film career. A few years later, both of them got a ticket to Hollywood.
The two films had an official re-premiere with live music after digital restoration at the National Film Archive, Mania in the autumn of 2011 in Warsaw and Beast at Il Cinema Ritrovato Festival in Bologna (world premiere) and 15th Silent Movie Festival in Warsaw (Polish premiere).
Leonard Buczkowski's Daredevils, another digitally restored treasure from the National Film Archive, will re-premiere accompanied by live music composed by Stephen Horne in the section titled 100 Years of Independence.

National Film Archive – Audiovisual Institute is a cultural institution protecting and providing access to stored films and audio-visual materials. NFA – AI supervises conservation, digitalisation and digital restoration of films, manages the collection of films and audio-visual materials, educates and contributes to culture. NFA – AI is also a co-producer for film, TV and radio.
NFA – AI digitalisation projects involve protection and restoration of the oldest films recorded on the original invaluable nitrocellulose medium from the period. Miraculously found, more often than not incomplete and badly damaged, they undergo a long process of research, conservation and restoration. Thanks to digital 4K technology, old films are given a new life on the big screen.
Films Mania. The History of a Cigarette Factory Worker and Daredevils were digitally restored in project Nitrofilm:
"Conservation and digitalisation of pre-war feature films at the National Film Archive in Warsaw".
The project has been co-financed by European Regional Development Fund within the framework of Priority 11: Culture and cultural heritage of the Infrastructure and Environment Operational Programme.
written by Aleksander Hertz
director of photography Witalis Korsak-Gołogowski
music (2017) Włodek Pawlik
production design Tadeusz Sobocki
cast Pola Negri, Witold Kuncewicz, Jan Pawłowski, Maria Dulęba, Mia Mara
producer Aleksander Hertz
source Filmoteka Narodowa – Instytut Audiowizualny