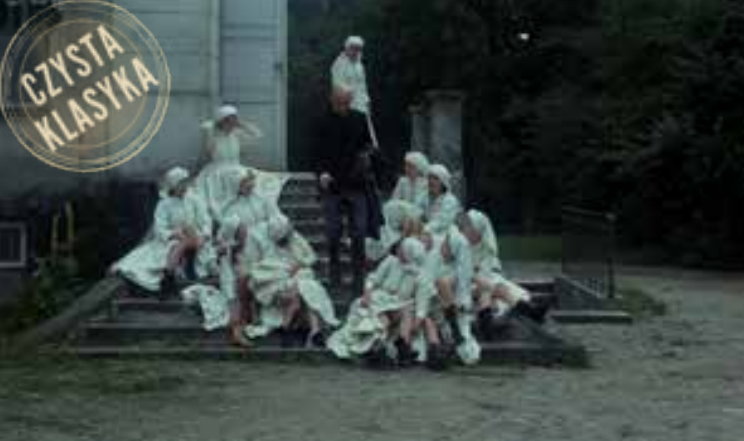 dir.
Walerian Borowczyk
1975
,
2 h 4 min
In 2023, we celebrate the 100th birthday anniversary of one of the most extraordinary and controversial creators in the history of film art – Walerian Borowczyk. This Polish director of feature and animated films, graphic artist, screenwriter, production designer and author left his mark in the film world with auteur solutions, provocative content and outstanding aesthetics.
Born on 2nd September 1923 in Kwilcz, he started as a painter and drawer but quickly became interested in cinema and animation. Though short, his first animated films were praised for their surrealistic and expressive imagery. He made them with awe-inspiring precision and ingenuity, yet their themes sparked controversy.
In 1968, Borowczyk directed his first feature film, Goto, Island of Love, and it is in feature film that he was soon to become most successful. His pictures, however, provoking controversy and struggling with censorship, gained much acclaim from critics for their psychological depth, aesthetics and unique artistry. He often used symbols and metaphors to depict various aspects of human life and nature.
One of his most important films that became his trademark was The Beast (La Bête, 1975). Though scandalous, it drew everyone's attention to Borowczyk's talent to combine sensuality with deep artistic meaning. He also shot such prominent films as Blanche (1971), The Story of Sin (1975) and Emmanuelle 5 (1987).
Borowczyk received numerous prestigious awards, and his works were highly acclaimed at international festivals. His unparalleled artistic sense and fearless exploration of social issues and human desires won him over cinema connoisseurs worldwide.
One must acknowledge his contribution to animation as well. Borowczyk experimented with multiple techniques, creating unconventional and original works. His animated films often speak of human emotion, relationships and abstract concepts, making them timeless. They are still studied and remain a source of inspiration for young filmmakers.
The world lost this outstanding director in 2006. Still, his films, courage to tackle controversial issues, innovative approach to filmmaking and artistic prowess continue to spark discussions and inspire future generations of filmmakers. The 100th anniversary of Walerian Borowczyk's birthday is an opportunity to celebrate his heritage and explore his impact on world cinema.
The Story of Sin
Ewa falls in love with a man who rents a room from her parents, but Łukasz can't get a divorce. Seeing the impending trouble, Ewa's mother talks him into moving out of the city, but the girl won't give up. When she learns that her lover is in hospital, she puts everything aside to visit him, but their joy is short-lived. Łukasz leaves, and each decision Ewa makes brings her one step closer to a tragedy. The film is an adaptation of a novel by Stefan Żeromski.
written by: Walerian Borowczyk
director of photography: Zygmunt Samosiuk
music: Felix Mendelssohn-Bartholdy, Johann Pachelbel
production design: Teresa Barska
costume design: Jerzy Szeski
make up: Zbigniew Dobracki, Jan Płażewski, Zofia Macińska
sound: Jan Czerwiński
edited by: Lidia Pacewicz
cast: Grażyna Długołęcka, Jerzy Zelnik, Olgierd Łukaszewicz, Roman Wilhelmi, Marek Walczewski
production: Zespół Filmowy Tor
production manager: Helena Nowicka
Movie - Festival Programme
| | | DAY 1 - 18th September 2023 | | BUY |
| --- | --- | --- | --- | --- |
| | | DAY 2 - 19th September 2023 | | BUY |
| | 15:30 | The Story of Sin | GCF - Sala Goplana | |
| | | DAY 3 - 20th September 2023 | | BUY |
| | | DAY 4 - 21st September 2023 | | BUY |
| | | DAY 5 - 22nd September 2023 | | BUY |
| | | DAY 6 - 23rd September 2023 | | BUY |