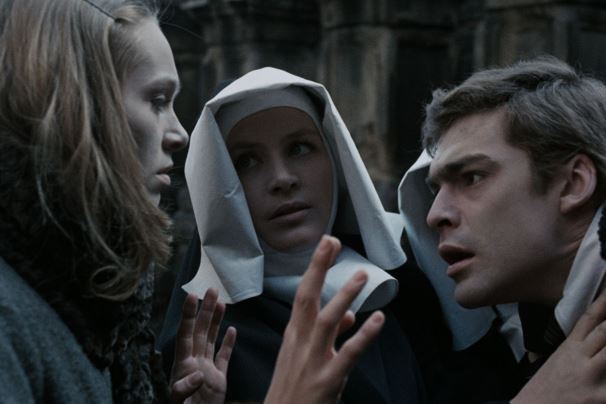 The Third Part of the Night
dir.
Andrzej Żuławski
1971
,
1 h 48 min
WW II. Michał, a young intellectual, loses his loved ones – his mother, wife and little son are murdered. He joins the conspiracy movement. A tragic coincidence makes him witness a labour. The woman giving birth looks almost identical to his late wife. To help her and her child he starts work as a lice feeder. It soon turns out that his life with Helena is a copy of his previous one…
One of the most original and striking debuts in the history of Polish cinema. An extraordinary vision of the occupation seen as the Apocalypse coming true, inspired by the war experiences of the Żuławski family (especially those of the director's father). Its bold form (the feverish rhythm of narration, Andrzej Korzyński's disquieting music, Witold Sobociński's visionary cinematography, expressive acting) combined with an ethical message instructing to remain faithful to values during a catastrophe, and hope that chaos may give rise to a new life.

Awards:
Andrzej Munk Award 1971 for Andrzej Żuławski
IFF Adelaide 1972: Diploma of Recognition
1st International Film Meetings "Young on Screen" Koszalin 1973: Jantar Award for an original approach to war themes and suggestive visual expression
written by Andrzej Żuławski, Mirosław Żuławski
director of photography Witold Sobociński music by Andrzej Korzyński
production design by Teresa Barska
set decorator Stanisław Ledóchowski
costume design by Lidia Rzeszewska
make-up by Halina Ber
sound by Małgorzata Jaworska
edited by Halina Prugar
cast Małgorzata Braunek, Leszek Teleszyński, Jan Nowicki, Jerzy Goliński, Anna Milewska, Leszek Długosz, Michał Grudziński, Tadeusz Huk, Andrzej Lajborek, Janusz Miszczak, Krzysztof Fus, Hanna Stankówna, Halina Czengery, Jadwiga Halina Gallowa, Marek Walczewski, Grażyna Barszczewska, Alicja Jachiewicz
produced by Zespół Filmowy Wektor
production manager Barbara Pec-Ślesicka
digital restoration Cyfrowe Repozytorium Filmowe 2014
co-financed by PISF, MKiDN, Narodowy Instytut Audiowizualny
Legend
Konkurs Fabularnych Filmów Krótkometrażowych
Movie - Festival Programme
| | | DAY 1 – 20th SEPTEMBER 2021 | | BUY |
| --- | --- | --- | --- | --- |
| | | DAY 2 – 21st SEPTEMBER 2021 | | BUY |
| | | DAY 3 – 22nd SEPTEMBER 2021 | | BUY |
| | | DAY 4 – 23rd SEPTEMBER 2021 | | BUY |
| | | DAY 5 – 24th SEPTEMBER 2021 | | BUY |
| | | DAY 6 – 25th SEPTEMBER 2021 | | BUY |