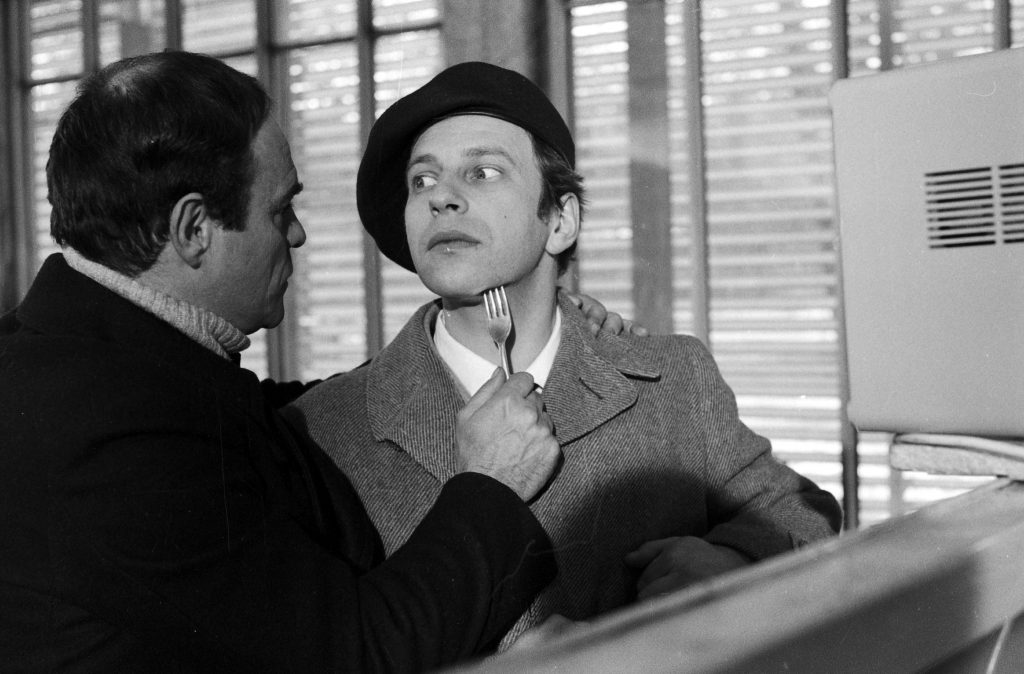 The War Of The Worlds: Next Century
dir.
Piotr Szulkin
1983
,
1 h 32 min
December 2000. Martians lead on Earth. The entire mankind is enslaved and manipulated by aliens. Propagandistic television enforces rules to abide by with the motto "We create reality". Iron Idem, a popular anchor-man, is unsettled by the situation and decides to fight the regime. He calls all Earthlings to stand up to Alien dictatorship, but his rebellion has dire consequences. The screenplay of the film is based on the novel by Herbert George Wells.
written by Piotr Szulkin
director of photography Zygmunt Samosiuk
music Józef Skrzek, Wojciech Gogolewski, Johannes Brahms, Franz Gruber, Christoph Willibald Gluck, Jerzy Maksymiuk
production design Andrzej Haliński
costume design Ewa Krauze
make-up Helena Matejska, Elżbieta Cieślik-Tacky, Zofia Bujak
sound Nikodem Wołk- Łaniewski
edited by Elżbieta Kurkowska
cast Roman Wilhelmi, Krystyna Janda, Mariusz Dmochowski, Jerzy Stuhr, Marek Walczewski
production Zespół Filmowy Perspektywa
production manager Jerzy Rutowicz
Piotr Szulkin director of feature films and theatrical plays for stage and television, screenwriter, actor, writer and visual artist. Born on 26th April 1950. Died on 3rd August 2018. Graduate of Liceum Sztuk Plastycznych in Warsaw (a high school specialising in visual arts) and Lodz Film School Film and Television Direction Department. Lecturer at the Lodz Film School. Since 2013, Professor of Film Art. Member of the Polish Film Academy. Most of his works fall into the category of philosophical science-fiction. Decorated with the Silver Medal for Merit to Culture – Gloria Artis and the Order of Polonia Restituta, Fifth Class.
Selected film
1979 Golem
1984 O-Bi, O-Ba: The End of Civilization
1985 Ga-Ga: Glory to the Heroes
2003 King Ubu
Movie - Festival Programme
| | | | | BUY |
| --- | --- | --- | --- | --- |
| | | | | BUY |
| | | | | BUY |
| | | | | BUY |
| | | | | BUY |
| | | DAY 6 – 17th SEPTEMBER 2022 | | BUY |