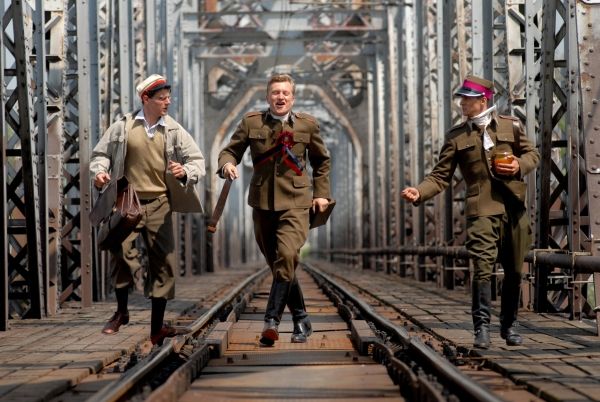 Tomorrow we're going to the movies
The film tells the story about three friends – Warsaw high-school graduates of 1938 – full of big plans, hopes and dreams about adult life. They enter maturity when Poland is about to face the Nazi German invasion. Forced to confront cruel reality, all three learn a tough lesson of patriotism. The characters are inspired by the real people – screenwriter Jerzy Stefan Stawiński's friends.
Written by: Jerzy Stefan Stawiński
Director of photography: Piotr Wojtowicz
Music by: Michał Hairulin
Production design by: Magdalena Dipont
Sound: Leszek Freud, Katarzyna Dzida-Hamela
Editing: Milena Fiedler
Costume design by: Magdalena Biedrzycka
Production manager: Katarzyna Fukacz-Cebula
Produced by: Polish Television Film Agency
Executive producer: Akson Studio
World sales: Telewizja Polska – Biuro Współpracy Międzynarodowej i Handlu
Country and year of production: Poland, 2007
Cast: Mateusz Damięcki (Andrzej Skowroński), Antoni Pawlicki (Piotr Dołowy), Jakub Wesołowski (Jerzy Bolesławski), Anna Gzyra (Krysia Włosowska), Julia Pietrucha (Zosia Paluch), Marta Ścisłowicz (Ania), Maria Niklińska (Basia), Bożena Adamek (Piotr's mother), Monika Jakowczuk (Marina), Grażyna Szapołowska (Krysia's mother), Olgierd Łukaszewicz (Krysia's father)
Length: 100 min.
Movie - Festival Programme
| | | DAY 1 - 18th September 2023 | | BUY |
| --- | --- | --- | --- | --- |
| | | DAY 2 - 19th September 2023 | | BUY |
| | | DAY 3 - 20th September 2023 | | BUY |
| | | DAY 4 - 21st September 2023 | | BUY |
| | | DAY 5 - 22nd September 2023 | | BUY |
| | | DAY 6 - 23rd September 2023 | | BUY |