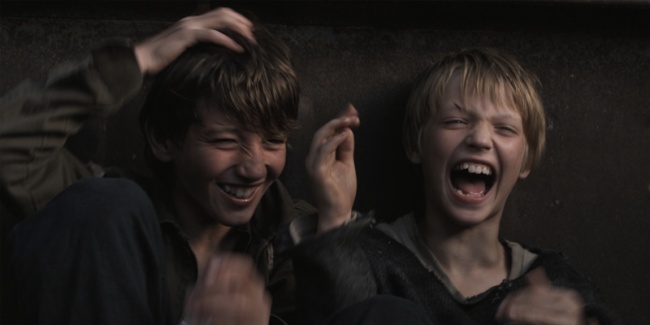 Tomorrow will be better
They say this story really happened. Nobody knows if there were two or three boys. Nobody knows if they were brothers and whether they were running away for the first time or yet another. Kobody knows, what happened along the road. What is known is that they wanted to change something in their lives. Good and bad people are everywhere. Accident and coincidence often decide about our fate. Many of us hope that somewhere there life is better, different and more beautiful. Wherever it is.
Directed by: Dorota Kędzierzawska
Written by: Dorota Kędzierzawska
Director of photography: Arthur Reinhart
Production design: Arthur Reinhart
Sound: Michał Pajdiak, Honza Martinek
Editing: Dorota Kędzierzawska, Arthur Reinhart
Costume design by: Katarzyna Morawska
Make-up: Renata Najberg
Cast: Oleg Ryba, Evgeny Ryba, Akhmed Sardalov, Aleksandra Billewicz, Kinga Walenkiewicz, Stanisław Soyka, Zygmunt Gorodowienko
Production manager: Arthur Reinhart
Producer: Artur Reinhart
Co-produced by: PIONIWA FILM INC, THE CHIMNEY POT Sp z o.o., NON STOP FILM SERVICES Sp.z o.o., FILM ILUMINATION
The film was co-financed by the Polish Film Institute.
World sales: KID FILM Sp. z o.o.
Movie - Festival Programme
| | | DAY 1 – 20th SEPTEMBER 2021 | | BUY |
| --- | --- | --- | --- | --- |
| | | DAY 2 – 21st SEPTEMBER 2021 | | BUY |
| | | DAY 3 – 22nd SEPTEMBER 2021 | | BUY |
| | | DAY 4 – 23rd SEPTEMBER 2021 | | BUY |
| | | DAY 5 – 24th SEPTEMBER 2021 | | BUY |
| | | DAY 6 – 25th SEPTEMBER 2021 | | BUY |