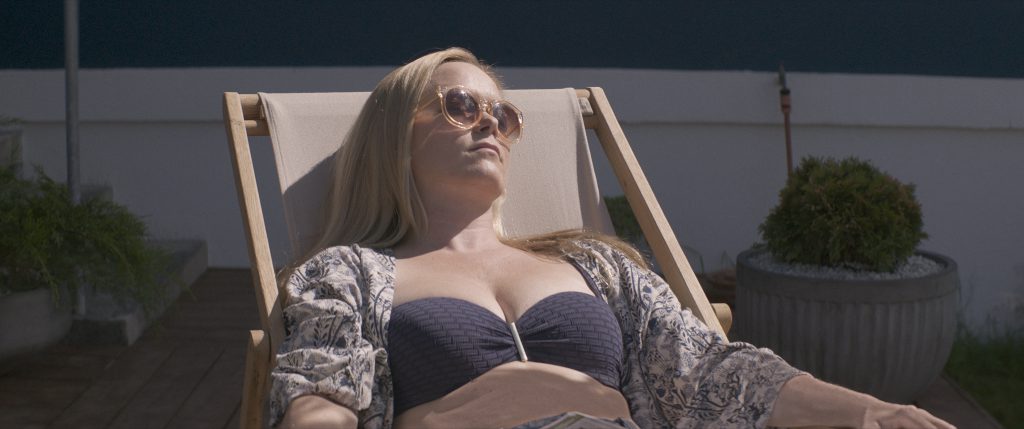 dir.
Hafsteinn Gunnar Sigurðsson
2017
,
1 h 44 min
Atli's wife throws him out, so he moves to his parents engaged in a neighbourly feud. The escalating conflict has been sparked by Baldvin and Inga's tree casting a shadow on a fair share of Eybjorg and Konrad's garden. Civilised citizens go feral and won't refrain from a hit below the belt. The next thing they know car tires are punctured, and pets vanish under mysterious circumstances. Word has it that someone saw a neighbour with a chainsaw. An innocent little quarrel comes to both absurd and shocking end.
written by Huldar Breiðfjörð, Hafsteinn Gunnar Sigurðsson
director of photography Monika Lenczewska
music Daníel Bjarnason
production design Snorri Freyr Hilmarsson
costume design Margrét Einarsdóttir
make-up Bjørg Serup
sound Björn Viktorsson
edited by Kristján Loðmfjörð
casting by Vigfús Gunnarsson
cast Steinþór Hróar Steinþórsson, Edda Björgvinsdóttir, Sigurður Sigurjónsson
producers Grímar Jónsson, Sindri Páll Kjartansson, Þórir Snær Sigurzzjónsson
co-producers Beata Rzeźniczek, Klaudia Śmieja, Jacob Jarek, Ditte Milsted, Caroline Schluter, Sol Bondy, Jamila Wenske
production Netop Films
co-production Madants, Profile Pictures, One Two Films
executive producer Sindri Páll Kjartansson
production manager Sindri Páll Kjartansson
co-financed by Polski Instytut Sztuki Filmowej
distributed by
M2 Films

Selected awards
2017 – Denver Film Festival – Special Mention
2018 – Audi Dublin International Film Festival – Film Critics Award for Best Cinematography to Monika Lenczewska

Hafsteinn Gunnar Sigurðsson born in 1978 in Reykjavik. A graduate of the film program at New York's Columbia University. His feature debut Either Way conquered festivals all over the world and inspired an American remake (Prince Avalanche). In 2012, "Variety" dubbed him one of the ten Euro directors to watch.
Selected films
2007 Skröltormar / Rattlesnakes
2011 Á annan veg / Either Way
2014 París norðursins / Paris of the North
Movie - Festival Programme
| | | | | BUY |
| --- | --- | --- | --- | --- |
| | | | | BUY |
| | | | | BUY |
| | | | | BUY |
| | | | | BUY |
| | | DAY 6 – 17th SEPTEMBER 2022 | | BUY |