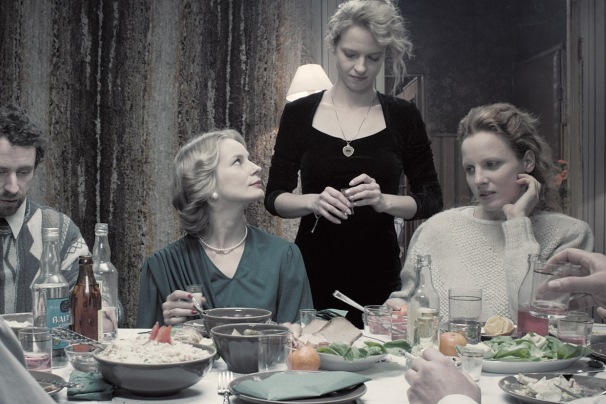 United States of Love
dir.
Tomasz Wasilewski
2016
,
1 h 44 min
The beginning of 1990. Although freedom has come, the spirit of the previous era is still in the air. Four seemingly happy women of different ages all have an irresistible desire to change their lives. The new reality fills them with fear but also releases their hidden cravings.
Agata, a young mother imprisoned inside a dispassionate marriage, tries to escape into an impossible love. Renata is a teacher fascinated by her younger neighbour, Marzena, the provincial beauty queen, whose husband works in West Germany. Marzena's sister, Iza, is a school head teacher and a secret lover of the father of one of her pupils.

Awards:
IFF Berlin 2016: Silver Bear for Best Script
"Vistula" Festival of Polish Films, Moscow 2016: Special Mention of the Jury

Valetta Film Festival 2016:

Best Director and Best Actress (Dorota Kolak)

European Film Festival Palić 2016: Special Jury Award
written by Tomasz Wasilewski
director of photography Oleg Mutu
production design by Katarzyna Sobańska, Marcel Sławiński
costume design by Monika Kaleta
make-up by Ewa Kowalewska
sound by Christian Holm
edited by Beata Walentowska PSM
cast Julia Kijowska, Magdalena Cielecka, Dorota Kolak, Marta Nieradkiewicz, Tomek Tyndyk, Andrzej Chyra, Łukasz Simlat, Marcin Czarnik, Jędrzej Wielecki, Julia Chętnicka, Małgorzata Majerska, Lech Łotocki
produced by Mañana
producer Piotr Kobus
executive producer Agnieszka Drewno
co-produced by Telewizja Polska, Film i Väst, Common Ground Pictures
production manager Robert Feluch
co-financed by Polski Instytut Sztuki Filmowej
distributed by Mañana
world sales New Europe Film Sales
Legend
Konkurs Fabularnych Filmów Krótkometrażowych
Movie - Festival Programme
| | | DAY 1 – 20th SEPTEMBER 2021 | | BUY |
| --- | --- | --- | --- | --- |
| | | DAY 2 – 21st SEPTEMBER 2021 | | BUY |
| | | DAY 3 – 22nd SEPTEMBER 2021 | | BUY |
| | | DAY 4 – 23rd SEPTEMBER 2021 | | BUY |
| | | DAY 5 – 24th SEPTEMBER 2021 | | BUY |
| | | DAY 6 – 25th SEPTEMBER 2021 | | BUY |