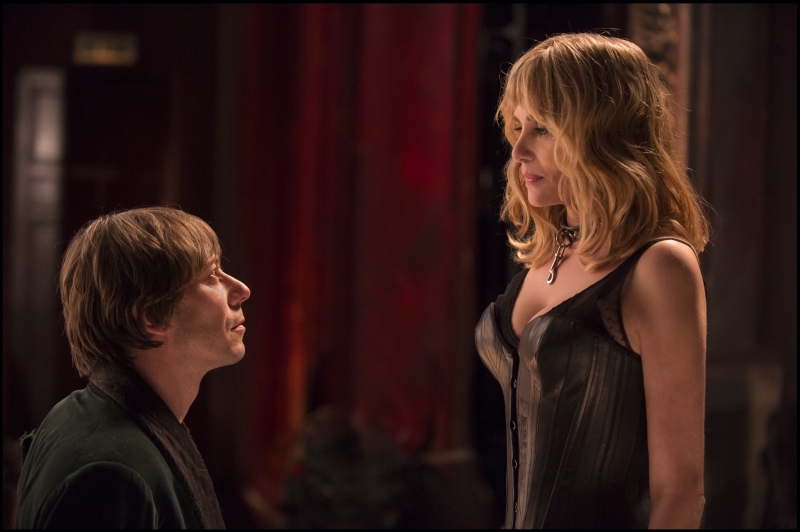 dir.
Roman Polański
2013
,
1 h 30 min
Roman Polański's new erotic comedy, phenomenally received by the critics and the audience of the Cannes Festival 2013.
The protagonist of "Venus in Fur" is Thomas, a director who is looking for an actress to perform a leading role in his new play. A thorough audition fails to produce results. None of the candidates is apt for the role of a woman who signs a contract with a man to make him her slave. The disheartened director is about to leave when Wanda rushes into the theatre. She seems impertinent, ill-mannered, desperate and unprepared. When Thomas reluctantly agrees to give her a chance the actress goes through a stunning metamorphosis.
"Venus in Fur" is an adaptation of David Ives's play, widely successful on Broadway, inspired by a novella under the same title written by Leopold von Sacher-Masoch.
Paweł Edelman, an outstanding Polish cinematographer who has cooperated with Polański in "The Pianist", "Oliver Twist" and "Ghost Writer" is the director of photography for the film. The film stars Emmanuelle Seigner and Mathieu Amalric, a French actor of Polish origin, known from "Quantum of Solace" and "The Diving Bell and the Butterfly", a film awarded in Cannes and nominated for 4 Oscars, in which he also played with Polański's wife. R.P. Productions, a co-producer of Monolith Films, is the producer for "Venus in Fur". The film was produced in cooperation with the Polish Film Institute.
fot. Monolith Films
Written by
:
Roman Polański
based on the play by David Ives inspired by the novella "Venus in Fur" by Leopold von Sacher-Masoch
Production design by: Bruno Via
Set decoration by: Philippe Cord'homme
Cast: Emmanuelle Seigner, Mathieu Amalric
Produced by: R.P. Productions; A.S. Films
Co-financed by: Polish Film Institute
Legend
Przegląd Polskiego Kina Niezależnego
Movie - Festival Programme
| | | | | BUY |
| --- | --- | --- | --- | --- |
| | | | | BUY |
| | | | | BUY |
| | | | | BUY |
| | | | | BUY |
| | | DAY 6 – 17th SEPTEMBER 2022 | | BUY |