43rd PFF Opening Films: "The Butler" and "Masterclass"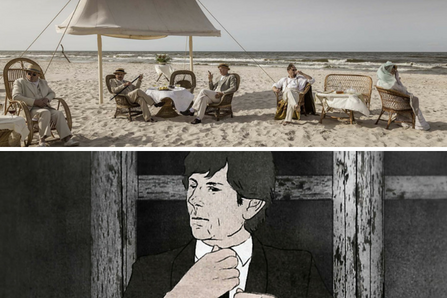 A screening of the most recent film by Filip Bajon, "The Butler", qualified for the Main Competition, will open the 43rd Polish Film Festival on 17th September 2018 at 7.00 p.m. The participants of the official opening in the Musical Theatre in Gdynia will also see a few minutes long animation entitled "Masterclass", produced by the Fine Arts Academy in Krakow.
"The Butler" is a truth-based story of tangled fates of Poles, Kashubians and Germans, told in the background of the turbulent events of the first half of the 20th century.
Filip Bajon's new film tells the story of Mateusz Krol. After his mother dies Mateusz Krol, a Kashubian boy, is taken in by a Prussian aristocrat Gerda von Krauss. He is growing up in her palace. The daughter of the von Krausses, Marita, is the same age as he is. Love buds between the two. The boy's godfather is Bazyli Miotke, a Kashubian patriot who fights in Versailles for Kashubia to have its place on the map of Poland, and goes on to build the symbol of its economic success, the City of Gdynia. The Treaty of Versailles grants Poland its independence but also makes the von Krauss family lose their property and influence. All the protagonists can feel that the world as they know it is about to change drastically. Hostility and hatred increase among the Kashubs, Poles and Germans. II WW breaks out. In the Piaśnica Forest the Nazis murder civilians, which becomes the first genocide of this war.
On the screen Janusz Gajos, Sebastian Fabijański, Marianna Zydek, Adam Woronowicz, Anna Radwan, Borys Szyc, Łukasz Simlat, Daniel Olbrychski, Kamilla Baar-Kochańska, Marcel Sabat, Diana Zamojska and Sławomir Orzechowski.
The film "Masterclass" was directed by: Ewa Drzewicka, Dominika Fedko, Małgorzata Jachna, Małgorzata Jędrzejec, Weronika Kuc, Aleksandra Rylewicz, Grażyna Trela.
Animated film, about the formation of the Master, inspired by the work of Roman Polanski. Surrealistic picture with elements of macabre absurdity situation, metaphorical struggle of matter in shaping man and creator. Once "body substance" slides off the window, like the hero of the film The Tenant. Paradoxically, another collapse is shaping up a human figure who finally performs a master perfect somersault and strongly landed on the ground. The fully formed pratagonist is Roman Polanski – famous film director.
The film lasts 6,5 minutes and its producer is the Fine Arts Academy in Krakow. It was made based on a screenplay by Grazyna Trela, under the artistic supervision of Robert Sowa.
The 43rd Polish Film Festival will be held from 17th to 22nd September 2018.