50 years after March 1968. Special section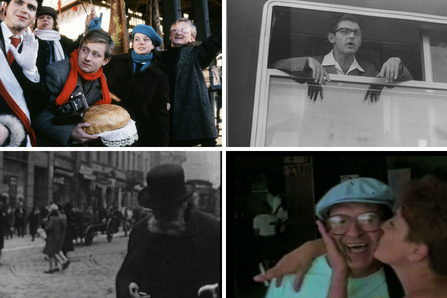 In the year of the 50th anniversary of the events of March '68, the programme of the Polish Film Festival in Gdynia was enriched with an additional film section which will recall the historic events.
The participants of the 43rd PFF will have the chance, via film, to come back to the events of 1968 in Poland. Both feature and documentary filmmakers have reached out for the topics related to student demonstrations or involuntary emigration of several thousands people of Jewish origin. In the "50 Years after March 1968" section, six selected films will be presented.
The programme of the section includes "Index" directed by Janusz Kijowski. The film, telling the story of Józef Moneta, a student facing the political reality – with the great role by Krzysztof Zaleski – was made in 1976 and 1977. However, it had its approved premiere only in 1981, at the time of the Solidarity breakthrough. A second feature film in the section is "March Caresses" (1989) by Radosław Piwowarski. It is a group portrait of a generation whose careless youth is brutally interrupted by anti-Semitic campaign in Poland.
Four remaining films in the section are outstanding Polish documentaries. The starting point in the film "Seven Jews from my Class" (1991) directed by Marcel Łoziński is a Reunion of a group of people dismissed from Poland. The memoirs of emigrants persecuted in the Polish People's Republic are also depicted in "Farewell to my Country" (2002) directed by Andrzej Krakowski. "Dworzec Gdański" (2007), a film directed by Maria Zmarz-Koczanowicz, depicts the lives of emigrants who meet in an Israeli resort by the Mediterranean Sea. Many years have passed from their departure but Poland is still present in their homes. The section entitled "50 Years after March 1968" is supplemented with a few-minutes-long documentary by Jonathan Rozenbaum, "Happy Jews" (2008): a film joke with autobiographical context. The director tells the story of the emigration of his father, using archival materials recorded during the nostalgic party of emigrants from 1968.
The screenings were planned for 19-21 September 2018, in the Multikino in Gdynia. They will be accompanied by meetings with filmmakers, led by the director, screenwriter, film producer, teacher, writer and drawing artist, Andrzej Krakowski.
The 43rd Polish Film Festival will be held from 17th to 22nd September 2018.