Close-up on… youth films during the 45th PFF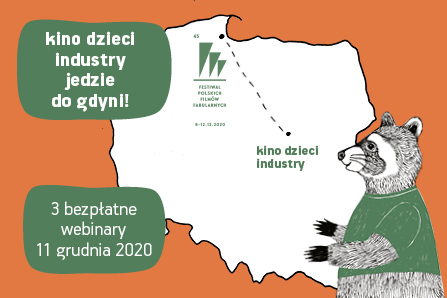 What kinds of films do children and teenagers want to see? How to make a good, festival-worthy youth film? How to distribute a youth film in the time of a pandemic? These questions will be answered by a series of webinars during the 45th Polish Film Festival.

Their co-organizer is Kids Kino Industry, the industry part of the Kids Kino International Film Festival organized by the New Horizons Association. The program also includes a lecture on copyright on the Internet, addressed to elementary and high school students.
"Close-up on…" is a new series of meetings within Gdynia Industry. It will be available free of charge to all interested in the social media of the Polish Film Festival.
Close-up on youth cinema… co-production with China

December 11, 2020, 11.00-12.00 / co-organizer: Kids Kino Industry
China has been emerging as an important player in the field of culture and entertainment for some time. Outperforming the United States in terms of cinema screens and other audiovisual sales and distribution opportunities, the country is a hugely important market for the creative industries, especially for an industry interested in producing children's films and series. What opportunities does the Chinese market offer to European producers? Our guests will try to answer this question. We will talk about the opportunities created by the local market and the situation of the Asian film industry. We will also consider the direction in which it is going.

In addition, on the example of the cooperation of the Polish company Animoon with China on the "Hug me" project, we will learn the details of producing films and series for children and what the project development process looks like in a Chinese production company through the eyes of the Polish producer. The session is addressed to everyone interested in business with China. The meeting will help to better understand how to establish cooperation with China in the coming months, what such cooperation looks like and what you need to prepare for when deciding on it.

Meeting guests:
Jean Dong, founder and president of Media Group, UK / China, Manman Chen, WeKids, China, Steven Ching, CEO, Agogo Studios, China, Zosia Jaroszuk, Animoon, Poland
Moderator: Katarzyna Siniarska from New Europe Film Sales.
Shaping production between the arthouse and family entertainment

December 11, 2020, 14.00-15.00 / co-organizer: Kids Kino Industry

Meeting with the award-winning and experienced producer Leontine Petit from Lemming Film, with offices in Amsterdam and Berlin, winner of, among others, Eurimages Co Production Award. Leontine has produced many children's films, both commercial and art-house. She has worked on 54 co-productions and 14 drama series in Europe and beyond. Her last film is Berlin Alexanderplatz, nominated this year for the European Film Award in three categories. Leontine recognizes the principle that children should be given the same diversity as an adult audience.

Together with Moritz Hemminger from ARRI Media International, they will talk about how to take films to the next level (including films for young audiences), how to find a balance between market expectations and artistic value in changing times, how to combine creativity, uniqueness and commercial success, and what awaits us in the future.

Meeting guests:
Leontine Petit, CEO Lemming Film, The Netherlands, Moritz Hemminger, Deputy Head of Sales & Acquisitions, ARRI International Media, Germany

Moderator: Ewa Puszczyńska, Extreme Emotions, Poland
Master lecture by Philip LaZebnik
11 December 2020, 16.00-16.45 / co-organizer: Kino Dzieci Industry
Master's lecture by Philip LaZebnik, screenwriter of full-length films and series, professionally associated with Disney Studios and Dream Works, author of scripts for such films as Mulan, Pocahontas, Prince of Egypt or The Road to El Dorado and European productions. In his work, regardless of whether he writes for a large American studio or for the needs of European low‑budget cinema, he uses the same tools. During the lecture, Philip LaZebnik will share his insights on the structure, character development and writing process, and the role played by the audience in the film. You will also learn why you have to be ruthless as writers with your creations, and how he uses Jason Alexander's questions to write scenes. The lecture will be complemented by a question and answer session.

Triple Trouble. What kind of cinema for children and youth do the young audience want to watch?

11 December 2020, 15.00

What children and youth films would young viewers banish from the silver screen? What characters are they fed up with, and who are their favourites? Do adult filmmakers even understand the needs of the young audience anymore? Or rather, as often is the case, they only think they do? During the debate with young viewers, we will talk about the condition of Polish children's and youth film and take a closer look at the results of Karol Jachymek's research workshop organised for the PFF in collaboration with young cinema-goers.
Close-up on… youth cinema. Copyrights on the Internet – selected issues

8 December 2020, 9.00 AM

Lecture and discussions for primary and secondary school students. During the lecture and discussion, issues relating to legal regulations in the field of the title issue, definition of a work or measures to protect economic copyrights.

Lecturer: Łukasz Kodłubański, PhD

The 45th Polish Film Festival is be held online on December 8-12, 2020.