Gdynia Industry for the Young at the 46th PFF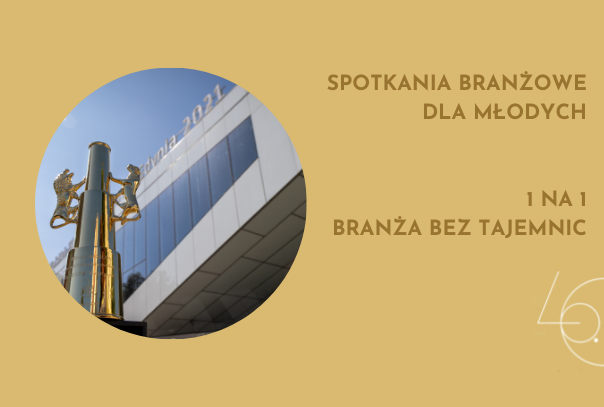 You're a young filmmaker and you want to talk about your ideas with someone experienced from the film industry? You will have such an opportunity during the 46th Polish Film Festival in Gdynia. You can now sign up for individual or group meetings with mentors.
Within this year's Gdynia Industry events, there will be a cycle of individual meetings and also a meeting in a smaller group. In both cases, to participate you need to send your application.
"1 ON 1" MEETINGS – Commenced at the Festival in 2020, a cycle of meetings with influential people from the film industry organised for young filmmakers. Esteemed experts and experienced individuals active on the market will answers questions, shed light on selected aspects of the way things work in the industry and present options for a career in filmmaking. The 25-minute meetings will be held face-to-face or online.
This year, the following experts accepted our invitation to 1 on 1:
Tim Redford (Clermont-Ferrand International Short Film Festival), Aneta Hickinbotham (Aurum Film), Anna Limbach-Uryn (Kino Świat), Jan Naszewski (New Europe Film Sales), Katarzyna Malinowska (Munk Studio – programmes for young filmmakers), Joanna Szymańska (Shipsboy), Beata Ryczkowska (Canal+ Polska), Łukasz Kłuskiewicz (Netflix), Anna Nagler (Netflix), Marta Habior (No Sugar Films), Michał Hudzikowski (Munk Studio – festivals).
To participate, fill in the application form available HERE. Sign-ups start on Friday, the 10th September, 10:00 a.m.
INDUSTRY WITHOUT SECRETS. PRODUCERS' LUNCH  is yet another event, which will make it easier for young creators to establish contact with those that are more experienced. The participants will get precious professional advice and answers for their probing questions. During lunch, discussions will be held in small groups at distinct thematic tables at the same time. Each of them will be dedicated to a different professional matter and will be seated with a strong team of mentors and experienced producers.
Development. For a Good Start: Joanna Szymańska, Magdalena Kamińska, Olga Bieniek.
Financing and Production. Who, Where, When and How to Pay for It: Agnieszka Dziedzic, Marta Habior, Andrzej Muszyński, Ewelina Gordziejuk.
Relationship with Creators. Between Psychology and Diplomacy: Agata Szymańska,  Justyna Pawlak, Jan Kwieciński.
Postproduction. The Devil Is in the Detail:  Kamil Rutkowski, Zuzanna Zdunek, Małgorzata Jurczak.
Promotion and Festivals. Red Carpet and the Rest: Mariusz Włodarski, Wojtek Leszczyński, Natalia Grzegorzek.
Distribution. The Audience Is the Cherry on Top: Leszek Bodzak, Kuba Kosma, Agnieszka Wasiak, Alicja Gawron-Jaksik.
Partners of the event that will be held on Friday, 24th September: Black Photon, Producers Guild of Poland and Polish Audiovisual Producers Chamber of Commerce.
Young producers willing to participate in the meeting must fill in the application form available HERE. Sign-ups start on Monday, the 13th September, 10:00 a.m.