I'm a naive cinemagoer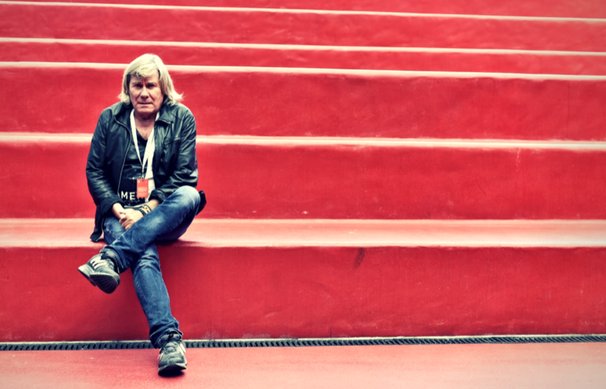 Filip Bajon
(born 1947)
Film and theatre director, screen and prose writer
Selected films:
"Aria for an Athlete" (1979), "Inspection of the Crime Scene 1901" (1980), "The Consul" (1981), "Shilly-Shally" (1981), "The Magnate" (1986), "The Ball at the Koluszki Junction" (1989), "Sauna" (1992), "It's Better to Be Beautiful and Rich" (1993), "Poznan '56" (1996), "The Spring to Come" (2001), "Maiden Vows" (2010), "Damage" (2015).
Jarosław Kurek: This week you shoulder the responsibility for the course of work of the jury at the most important film event in the country. Is this a heavy burden?
Filip Bajon: – I wouldn't put it this way. As the chairman of the jury at the festival in Gdynia, I'm most interested in an even distribution of emphases, likes and dislikes; in working out the community of opinions. My duty follows this direction.
Being a filmmaker myself, I perfectly understand that every director whose film has been accepted for the competition and is subjected to our – and obviously people's – assessment takes this situation personally and extremely seriously. The responsibility I feel stems from right there – a fear not to disappoint expectations of the authors who put lots of effort into their work.
You have already been a member of a festival jury, haven't you?
– Yes, in 2013, at a festival in Teheran. It was a huge event, its tradition dating back as far as the '80s. There was a review of Polish films and a few our filmmakers were invited to the capital of Iran. Apart from that, in 2011, I also happened to be the chairman of the jury at "The Young and The Film" Festival in Koszalin.
It's hard to compare these two events with one another and with Gdynia. Koszalin is young, exuberant. Each discussion involves big emotions. Teheran was a completely different experience. Can you imagine that there was absolutely no contact between the jury and the audience? We never met. More than that, we were watching entirely different films: two different planets!
The situation of Iranian cinema reminds me a bit of what we now call the period of "middle Gierek". Even though filmmakers there don't lead an easy life, they make superb films which thoroughly investigate essential moral problems, in some sense similar to our cinema of moral anxiety. Iranian productions reach the West and succeed at festivals but still remain relatively unknown in the homeland. Distributed in a small number of copies, they reach only studio cinemas. Quite like in the Poland of the '70s.
You're in the middle of a real film marathon: 16 films to watch in just a few days. How do you manage that?
– Great because I'm a fan of the cinema in general. I really enjoy watching films. For all those years, I guess I haven't lost this sort of freshness or even naivety of reception. I don't approach them as a professor routinised by directing expertise. At least at first encounter. It might be different when I see the film for the second or third time. I also don't have any expectations or prejudices. It's not that as a director of epic, historical films I prefer to watch ones. I also have the comfort of not having seen any of the competing films.
As to the their number in the Main Competition, the decision that there should be between 14 and 18 pictures was made on the ground that it's impossible to present more and that's fine. It's the right number. Up to four films a day, that's how many you can watch with no damage to your health (laughs).
Do you follow what happens in Gdynia each year? Observe how the Polish film develops?
– The art does not develop. It evolves. Shows different faces. That's why it keeps being fascinating. Each year, every cinemagoer can find it out for themselves. I do it too, the Gdynia Film Festival being one of the occasions. I admit that as an event it has grown but rather in terms of organisation and technology.
I must ask you about the scheduled film. The one of a special importance to the Pomerania and the Kashubians – "The Butler" ("Kamerdyner"). It will tell the story of Prussian and Kashubian families living in the vicinity of Puck in the first half of the 20th century. It's been revealed that the film will also recall the executions carried out by Germans in Piaśnica. How come you took up this subject?
– Mirosław Piepka, the co-writer of "The Butler", contacted me about it. And because I once intended to make a film set in the Western Prussia, which is not far from the Kashubians, and because I have a huge, loyal affection for the latter, I felt prepared. I didn't hesitate long before jumping at it. "The Butler" is based on true events. It tells the story of an aristocratic German family living in the Kashubia, in a melting pot where historical events alter relationships between people. So far we've shot about 25 per cent of the screenplay. The film should be ready next year. It stars magnificent actors, those whom I managed to attract: Janusz Gajos, Daniel Olbrychski, Anna Radwan, Adam Woronowicz as well as young Marianna Zydek and Sebastian Fabijański.
It's an epic, historical spectacle rich with characters who evolve over the period of nearly fifty years. Undoubtedly, it must be hard to make it. You're one of the last directors who still shoot this sort of films in Poland.
– Well said: 'still' (laugh). True, the audience has long been unaccustomed to such films. Epic cinema based on historical facts demands focus. It has its specific, unhurried pace. Tensions and plot twists are reached slower than in other genera. The story develops more peacefully. I'm sure that in order to make such films one has to be predisposed: take interest in the course of history, in categories of human fate and in how the destiny of an individual gets entangled with history. Such a film hasn't been made in Poland for a long time.
Predominantly known as a filmmaker, you're also an esteemed and acclaimed prose writer. Do you think that a script is the decisive element of a good film?
– You'll be surprised. I don't think it's the most important thing. What matters is staging. Cinema is made of pictures.

From: festival newspaper, issue 2