Rebel Babel KOMEDA BIG BANG. Outdoor concerts at the 44th Polish Film Festival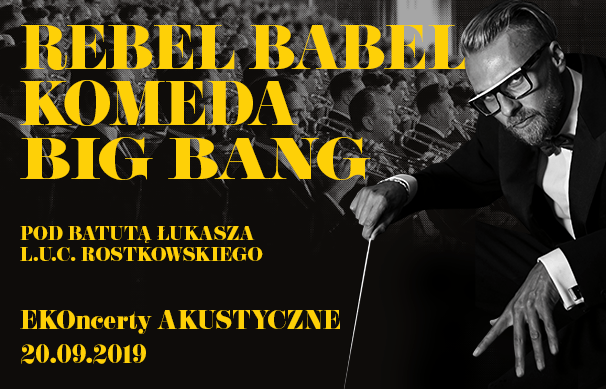 An almost 100-strong orchestra composed of several Polish and European big-bands under the baton of Łukasz L.U.C. Rostkowski will perform the works of Krzysztof Komeda during the Polish Film Festival in Gdynia on Friday, September 20, 2019.
Half a century after the death of the Polish film music composer, a creator of world-famous jazz standards, his works will sound in the streets of the city so inextricably linked with Polish cinema. They will be performed simultaneously by orchestras invited to participate in this unique musical project in several places in the centre of Gdynia.
The simultaneous acoustic concert will start at 17.00. An hour later actresses Magda Kumorek and Anna Dereszowska will sing Komeda's works on the Red Stairs next to the Gdynia Film Center. They will be accompanied by Rebel Babel Ensemble, an international orchestra comprised of instrumentalists, rappers and composers. The Ensamble has been performing for three years and over 10,000 musicians from 15 countries have played in it so far.
The musical culmination of the festival Friday, September 20, will be KOMEDA BIG BANG, which is a joint performance of combined orchestras – all the bands that will appear earlier on the streets of Gdynia. At 20.00 it will acoustically perform selected works of Krzysztof Komeda, under the direction of Łukasz L.U.C. Rostkowski. The concert will take place in the newly renovated band shell on Grunwald Square, between the Musical Theatre and the Gdynia Film Centre.
The project was co-financed from the funds of the Multiannual Program NIEPODLEGŁA for the years 2017-2022 under the "Niepodległa" Grant Program.
Another musical event will also take place during the 44th Polish Film Festival: screening of "Halka" (1929/32), a silent movie directed by Konstanty Meglicki with live music composed and performed by Jerzy Rogiewicz. The composer will be accompanied by a team of musicians. The screening is planned as part of the Pre-War Cinema Treasures section. More details soon.
The 44th Polish Film Festival will be held on September 16-21, 2019 in Gdynia.