The Young Jury of the 42nd Polish Film Festival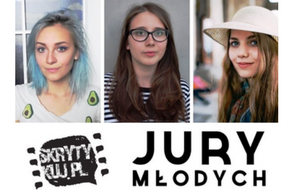 We already know the authors of the best reviews!
Almost 150 reviews by teenagers from the whole of Poland have been submitted in the last edition of the "Criticize!" contest. The winners are Agata Burdajewicz, Maria Dobosiewicz and Aniela Janowska.
It is those three persons that will compose the Joung Jury of the 42nd Polish Film Festival, during which they will award the director of one of the films presented in the Main Competition of the Festival.
Distinctions
Two distinctions in the "Criticize!" contest were given to Jan Biedny for his review of the "Song to song" film and to Kacper Parol for his video review of the "King Arthur: Legend of the Sword" film.
The "Criticize!" contest has been organized from 2013 with junior high school and high school students in mind. The campaign is aimed at promoting the conscious discussion of films among the youth. All the interested in participating in the "Criticize!" contest are encouraged to follow our website, where information about its upcoming editions will be published.
Get to know the profiles of the "Criticize" contest winners
Agata Burdajewicz – This year's high school graduate. Passion for the cinema and the drive for reviewing has been accompanying her ever since. In the cinema, she looks for innovations in the field of the form and believable, multi-faceted protagonists. A special place in her heart is taken by the queer cinema and the work of such authors as Andrew Haigh, Ulrich Seidl or Dagur Kári. She has been the member of the Young Jury of the Tofifest Festival. Her review can be found HERE.
Maria Dobosiewicz – This year's high school graduate. She is still looking for her way but she knows for sure that she likes the cinema. She is open to various genres and authors, although her favourite remains – not very originally – Woody Allen. Besides that, she is interested in the theatre. When she cannot sleep, she listens to classical music. Her review can be found HERE.
Aniela Janowska – This year's high school graduate and winner of the Contest in Knowledge on Film and Social Communication. She has led a home film discussion club named "DKINO" for the students of her high school. She can talk about the cinema for hours. She has the picture of Joaquin Phoenix in her wallet, as she plans to interview him. She expects the cinema to shock, leave you unsatisfied and move you to the Edge. Her video review can be found HERE.
The contest is organized as part of the "Criticize.pl" campaign implemented by the National Film Archive – the Audiovisual Institute with support of the Polish Film Institute.