With Legal Culture in Gdynia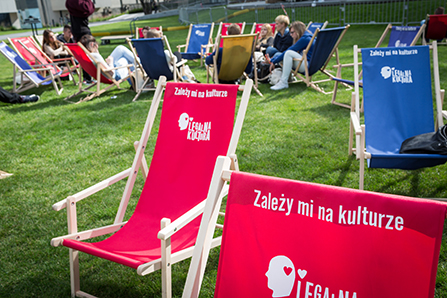 There would be no 42nd Polish Film Festival in Gdynia without the Legal Culture Foundation, which leads a positive social campaign dealing in education on copyright, intellectual property and dangers related to piracy. The Foundation has also made the www.legalnakultura.pl portal, including the Legal Culture Sources Database, the only in Poland.
Contest for a spot about honesty in culture
Film is the most popular kind of art because to billions of people, it is still as crucial as bread – due to its atmosphere and the fact that each viewer when watching a film is looking for their own face, their own life, problems that touch them personally. The statement by Zbigniew Cybulski became inspiration for the contest for a short film promoting honest use of culture as one of the foundations of functioning in the digital world. The Organizers are Legal Culture and the Polish Film Festival, and its winners will be announces during the Festival.

Culture On Sight
During the Festival, Legal Culture will turn on a multimedia installation Culture On Sight with access to over thusand works – films, music, books and audiobooks and virtual walks around the museums of Poland and the world. This Poland-vide project is to draw attention to the abundance of legal sources. This year, Legal Culture will get involved in the celebration of the 70th anniversary of Polish animation, devoting one of the shelves of Culture On Sight to outstanding animated films from the National Film Archive – Audiovisual Institute sources.
Special Award in the Short Film Competition
One of the aims of Legal Culture is the promotion of filmmakers beginning their professional paths; this is why for another time, the Foundation grants the Special Award in the Short Film Competition; the winners will be selected by the Festival jury.
"In the blackness of cinema"
Before the Festival films, we will see special, a few-seconds-long spots from the "In the blackness of cinema" cycle, with participation of authors of films presented in Gdynia this year.
Postcards from the Festival
Thanks to the postcard campaign, you can surprise your loved ones and give them a moment of analogue joy. Legal Culture will take care of your greetings reaching the recipients.
Traditionally, the Foundation also invites to the www.legalnakultura website and to their social media with coverage from the Festival.