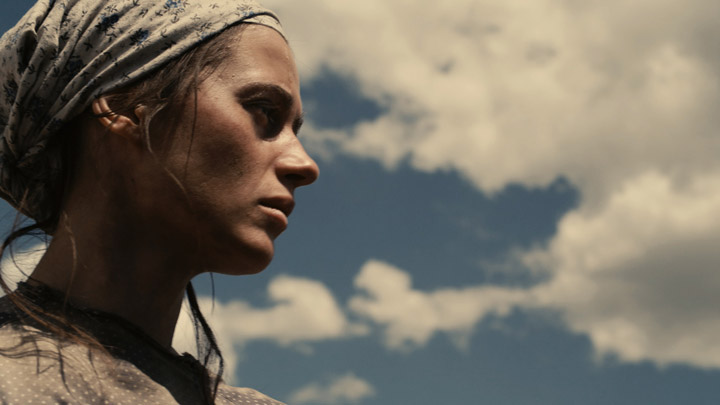 Beyond the Steppes
dir.
Vanja d'Alcantara
2010
,
1 h 23 min
A moving story of a young Polish woman, Nina, who is deported with her little son Antoś to the most remote region of Russia – Kazakhstan by the Red Army. As a political prisoner she works in sovkhoz in dreadful conditions. Every day she fights for survival and tries to preserve her human dignity. When the child get a serious disease, Nina and a group of nomads set off in search of a medicine.
Written by: Vanja d'Alcantara
Polish Title: Stepy
Director of Photography: Ruben Impens
Production Design by: Marek Warzewski
Sound: Senjan Jansen, Luc Cuveele
Film Editing: Virginia Messuaen
Costume Design by: Magda Rutkiewicz
Make-up: Lisa Schonker
Production Managers: Vincent Canart, Ewa Brodzka
Producer: Need Production, Denis Delcampe
Co-produced by: Akson Studio, Michał Kwieciński, Lunanime, Annemie Degryse
Executive Producer: Need Production
World Sales: DOC & FILM INTERNATIONAL
Country & Year of Production: Belgium, Poland 2010
Main Female Part: Agnieszka Grochowska
Supporting Male Part: Borys Szyc
Supporting Female Part: Aleksandra Justa
Length: 83 min.
Legend
Przegląd Polskiego Kina Niezależnego
Movie - Festival Programme
| | | DAY 1 – 20th SEPTEMBER 2021 | | BUY |
| --- | --- | --- | --- | --- |
| | | DAY 2 – 21st SEPTEMBER 2021 | | BUY |
| | | DAY 3 – 22nd SEPTEMBER 2021 | | BUY |
| | | DAY 4 – 23rd SEPTEMBER 2021 | | BUY |
| | | DAY 5 – 24th SEPTEMBER 2021 | | BUY |
| | | DAY 6 – 25th SEPTEMBER 2021 | | BUY |