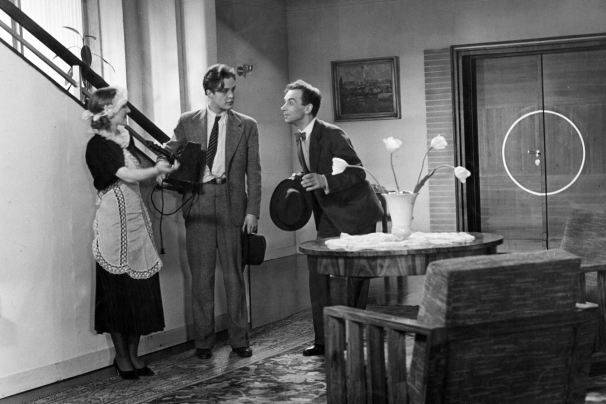 Fredek changes the world
dir.
Zbigniew Ziembiński
1936
,
1 h 29 min
A young inventor constructs a telephovision – a device which makes it possible not only to hear your interlocutors, but also to see them. Already from the very first experimental conversation the invention brings about only misfortunes. The residents of Warsaw start to panic.
The film contains as many as seven songs, and the legendary dancer, Loda Halama, performs her signature number "Zraniony ptak". It's also the only film in which we may admire the musical personas of the day: singer Jerzy Czaplicki and Te Cztery, the first female vocal ensemble in Poland. So far the film has been known only in fragments. Almost ten minutes of lost material, including as many as two songs, were found in the collection of the National Film Archive.
directed by Zbigniew Ziembiński
written by Julian Kaufman
director of photography Jakub Joniłowicz
music by Wanda Vorbond, Mieczysław Weinberg
songs by Wiktor Krupiński
lyrics by Bronisław Brok
production design by Adam Knauff, Jacek Rotmil
cast Zbigniew Rakowiecki, Józef Kondrat, Karolina Lubieńska, Loda Halama, Jerzy Czaplicki, Alina Żeliska, Tadeusz Wesołowski, Wanda Jarszewska, Antoni Fertner
produced by Varsowia-Film
Legend
Konkurs Fabularnych Filmów Krótkometrażowych
Movie - Festival Programme
| | | DAY 1 – 20th SEPTEMBER 2021 | | BUY |
| --- | --- | --- | --- | --- |
| | | DAY 2 – 21st SEPTEMBER 2021 | | BUY |
| | | DAY 3 – 22nd SEPTEMBER 2021 | | BUY |
| | | DAY 4 – 23rd SEPTEMBER 2021 | | BUY |
| | | DAY 5 – 24th SEPTEMBER 2021 | | BUY |
| | | DAY 6 – 25th SEPTEMBER 2021 | | BUY |